Cantilever Slide Gates
Cantilever slide gates add style, function, and convenience to your commercial property!
Welcome to MFR Corp's METALCO products. We have been in the metal fabrication industry for over 30 years, providing stunning and high-quality designs in fence, rail, screen, and gate systems. Our team of expert engineers and designers works to craft high-quality metal solutions that are built to last on your commercial property and protected by our twenty-year warranty. 
Our gate systems are some of our most popular options for commercial properties to invest in. We offer standard designs or a 100% customization process that lets you work one-on-one with our design team. 
METALCO gate systems come in a variety of styles, including swing gates, v-track sliding gates, telescoping gates, overhead slide gates, and self-supporting cantilever sliding gates.
Our cantilever slide gates offer a wide range of applications, features, and design details. With their self-supporting track system, these gates work well for high-traffic vehicle entry gates, as there is no ground-mounted track. You can learn more about our cantilever slide gates and review past projects on our website today.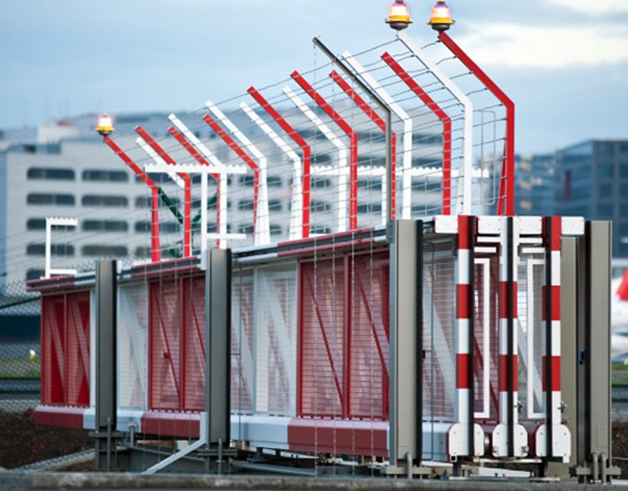 The Advantages of Cantilever Slide Gates
Enhanced security, easy control, integrated locking systems, versatility, durability, low maintenance, and ease of customization await you with MFR Corp's Cantilever Slide Gate Systems. Here are some more of our Cantilever Gate Systems' Key Benefits.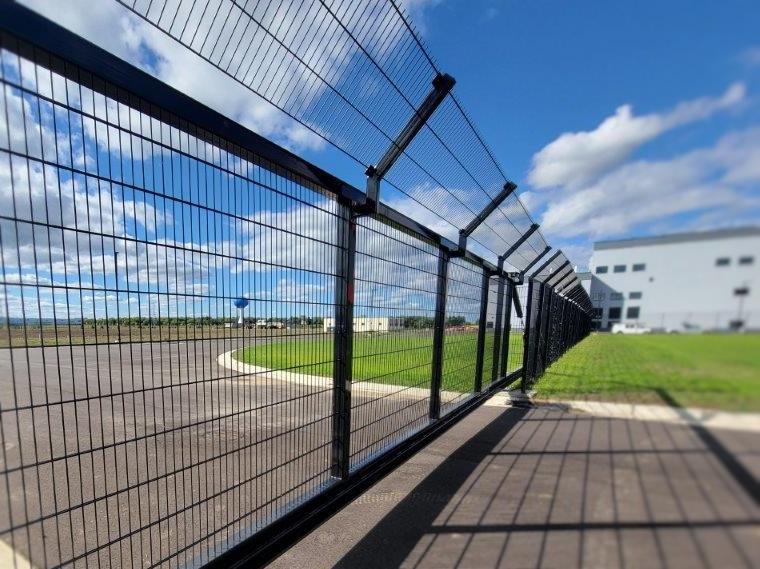 Benefit 1: Enhanced Security and Access Control
With any METALCO Slide Gate system, the elemental features of security, durability, and design are always integrated. Any of our Metalco Fence System designs can be accompanied by a matched gate of any type. Enhanced security features, such as access control or anti-climb gate systems, are available for whatever your project needs. Metalco's security gate systems can help reduce crime rates on your property; they are virtually impossible to cut or climb as a result of sturdy design and construction. 
We also provide an integrated locking system on our cantilever gate systems. This is a great way to enhance the security and protection of restricted areas on your property. Furthermore, it's one of the reasons that our cantilever gate systems are such a popular investment among companies with valuable assets to secure, as well as in the government sector.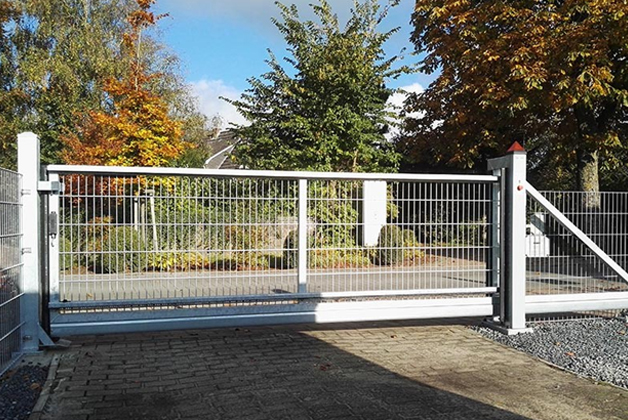 Benefit 2: Smooth and Reliable Operation
Our cantilever gate systems guarantee a seamless operation with the use of high-quality materials and precision engineering. We source our metals right here in the United States, which, along with our streamlined engineering process, helps us guarantee the quality and longevity of our materials. During our engineering stage, we begin with CAD drawings for expert levels of precision. Our engineers will help plan the gate system, including all accompanying hardware and motors for ease of installation and operation. Our steel products can be galvanized, in addition to powder coated, for added protection against the elements.
We have also reduced your maintenance needs significantly with our cantilever gate system design. Cantilever designs operate on a trackless system, which makes them easier to maintain. Traditional gate systems with a ground track system need to be kept clear of debris such as uneven ground, rocks, and plant matter that can clog the track. With a cantilever design and self-supporting system, you get low maintenance and a beautiful design that functions seamlessly.
Benefit 3: Space Efficiency and Versatility
Cantilever gate systems also use space more efficiently in an area where swinging gates may not work. Their streamlined and fluid setup brings elegance and efficiency in a compact design. 
They can operate in areas where other gate options can't, such as gravel, crowded roadways, icy conditions, and even above curbed regions. This makes it easy to incorporate a cantilever design into most commercial areas. 
Benefit 4: Durability and Low Maintenance
Cantilever slide gates are also highly resistant to corrosion. Protected by MFR Manufacturing's standard twenty-year warranty, our gate systems are built to last. Of course, natural aging is inevitable over an extended period of time, but our gate systems will last longer than alternative options on the market. 
Part of what makes choosing an MFR Corp cantilever slide gate system a smart investment is the low cost of maintenance. In fact, there are minimal maintenance requirements for all of our slide gate systems. This helps save money in the long run and reduces manual labor on upkeep and use of resources. 
Benefit 5: Customization and Aesthetics
As with all of our solutions at MFR Corp, our cantilever slide gates are easy to customize. Select any of our typical panel styles for your gate design, or reach out to us with your own vision! We provide a wide selection of colors using our powder coating process. We can also tailor the size of your slide gate to your corporation's needs. 
As aesthetics are critical to your business's presence, we work hard to make the customization process suit your needs. The aesthetics of your enterprise can actually increase the value of your property and secure your assets simultaneously.
Our Cantilever Slide Gate Solutions
At MFR Corp, we offer a wide range of slide gate options plus additional features to create your custom solution. We also can work with gate sizes of all types, including offering an oversized gate option for extra-large entries. Finally, we always tailor our designs to suit your needs. Therefore, we are happy to work one-on-one for entirely customized solutions using our self-supporting cantilever design.
Why Choose Our Fence Manufacturing Company?
MFR Corp is on a mission to provide high-quality metal fabrications for all commercial and industrial enterprises. Here are some of the many reasons to work with our team at MFR Corp. 
Experience and Expertise
MFR Corp has over 30 years of experience in the fence and gate system manufacturing industry. Our high-quality designs have earned us a reputation as one of the nation's leading metal solution companies. With computer-aided design systems and streamlined technology, we have perfected the trackless cantilever design at MFR Corp. 
Quality and Durability
At MFR Corp, quality is at the forefront of what we do in every design detail. For our high-quality and durable gates, we source our materials right here in the United States so we can guarantee the quality of our designs. Our superior craftsmanship and attention to detail are part of what has earned us our excellent reputation with so many major companies across the nation. 
Past Project Highlight: HARIBO MANUFACTURING FACILITY
One of MFR Corp's biggest projects was the HARIBO facility's 100-year anniversary celebration gate system investment. This features a TWINBAR gate system around the 137-acre property with custom detailing of a 10' angled return. It also showcases the METALCo gate system including traditional swing and slide gate features. It is actually the home of America's largest self-supporting cantilever slide gate, which racks in at over 135' long and was manufactured right here in the USA by MFR Corp. You can learn more about this project in our past project portfolio on the HARIBO gate system or by watching the video on our specialty gates page. 
Contact Us for Cantilever Slide Gates
It is never too late to invest in a stunning cantilever slide gate system from MFR Corp. 
If you are interested in taking your commercial property to the next level with MFR Corp, don't wait. You can reach us by phone at 815-708-2526 or by filling out our online contact form today. 
There are so many advantages to cantilever slide gate systems, including smooth, durable, and long-lasting solutions that require little maintenance. Now is the time to invest in our MFR Corp enterprise and commitment to quality!
We had a fencing system in place, but we needed a new gate system to help make accessibility secure and simple. MFR designed impressive gates that were exactly what we needed!
Our company recently did all new fencing and was struggling to figure out the best gate concept. The Cantilever sliding gates were perfect for establishing a secure entry point and providing easy access to the right people.
MFR Corp certainly impressed us recently with our gate. They helped design a solution that met every need and design concept we wanted. We are impressed!
ORGANIZATIONS THAT USE OUR PRODUCTS