Metalco "TWINBAR" Fence System
Break The Chain Link Habit with the TWINBAR® Fence System by Metalco.
No other wire mesh fence system can provide such high level of longevity, rigidity and security with elegance and style.
TWINBAR® is a a welded wire steel fence system. It is unique in the fact that it is by far more rigid than any other welded wire fence systems. Due to the use of two parallel horizontal wires with the vertical wires sandwiched between them, the fence panels become virtually indestructible.

Environmentally Responsible

Twenty Year Warranty

American Made

25 Years of Experience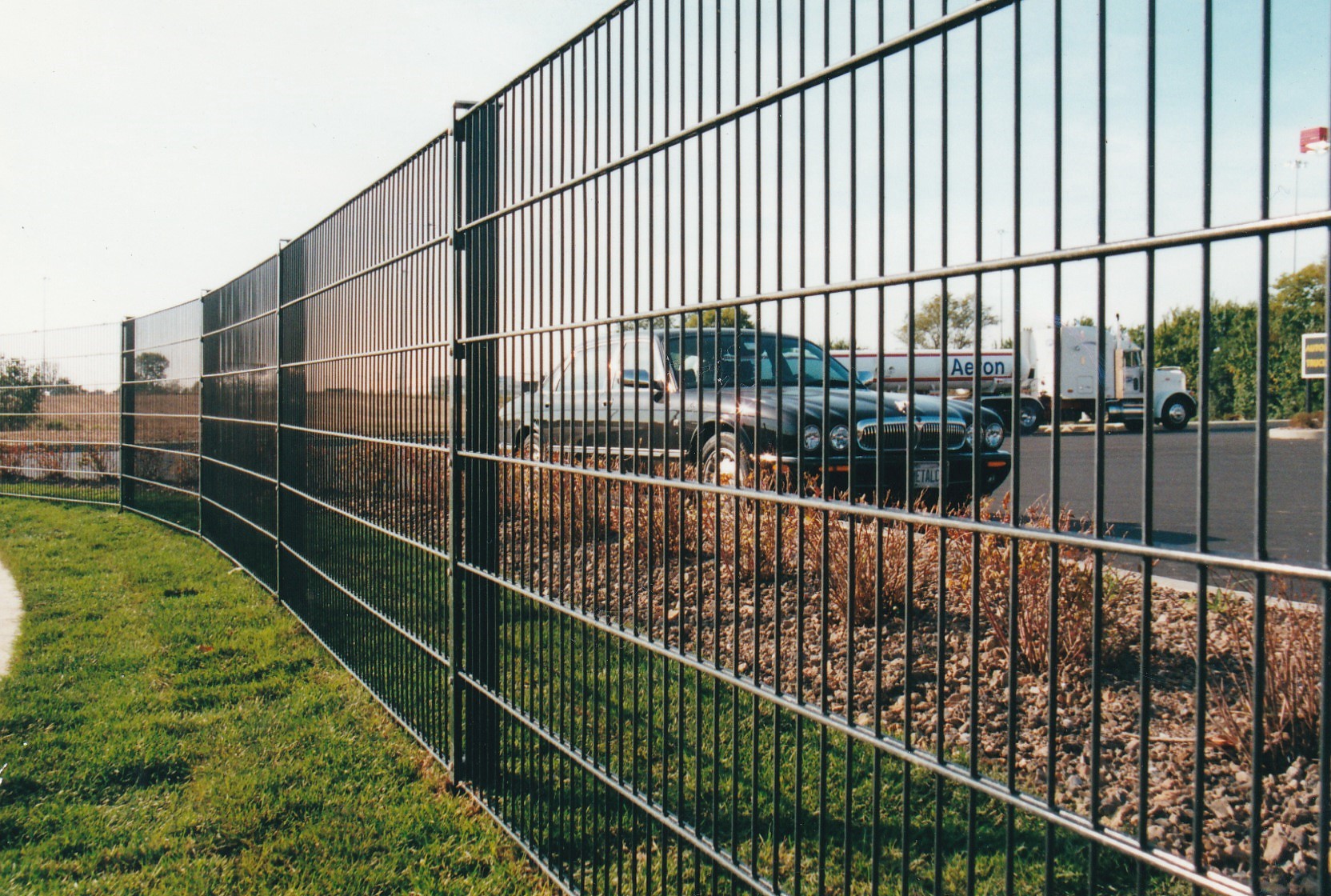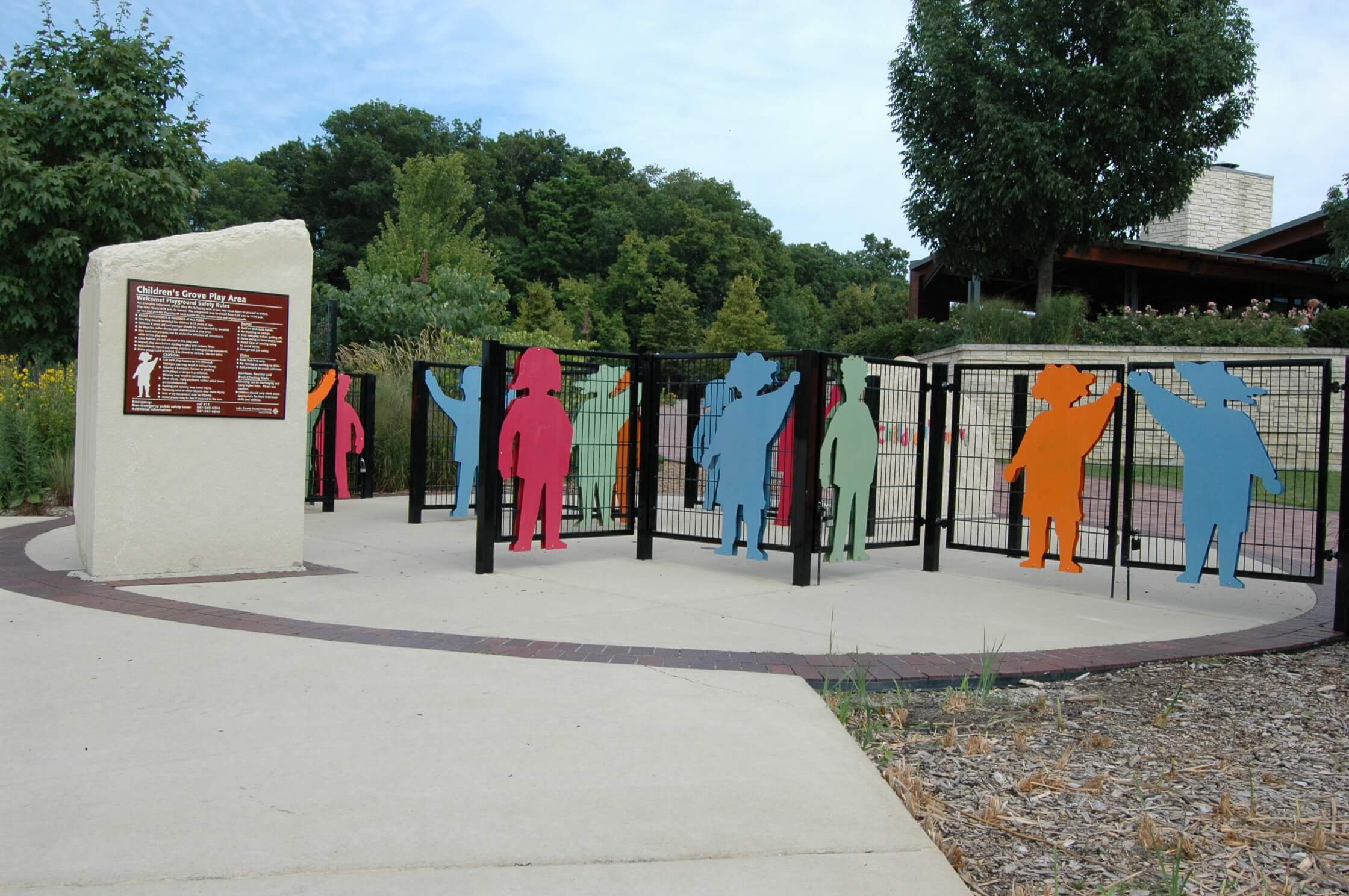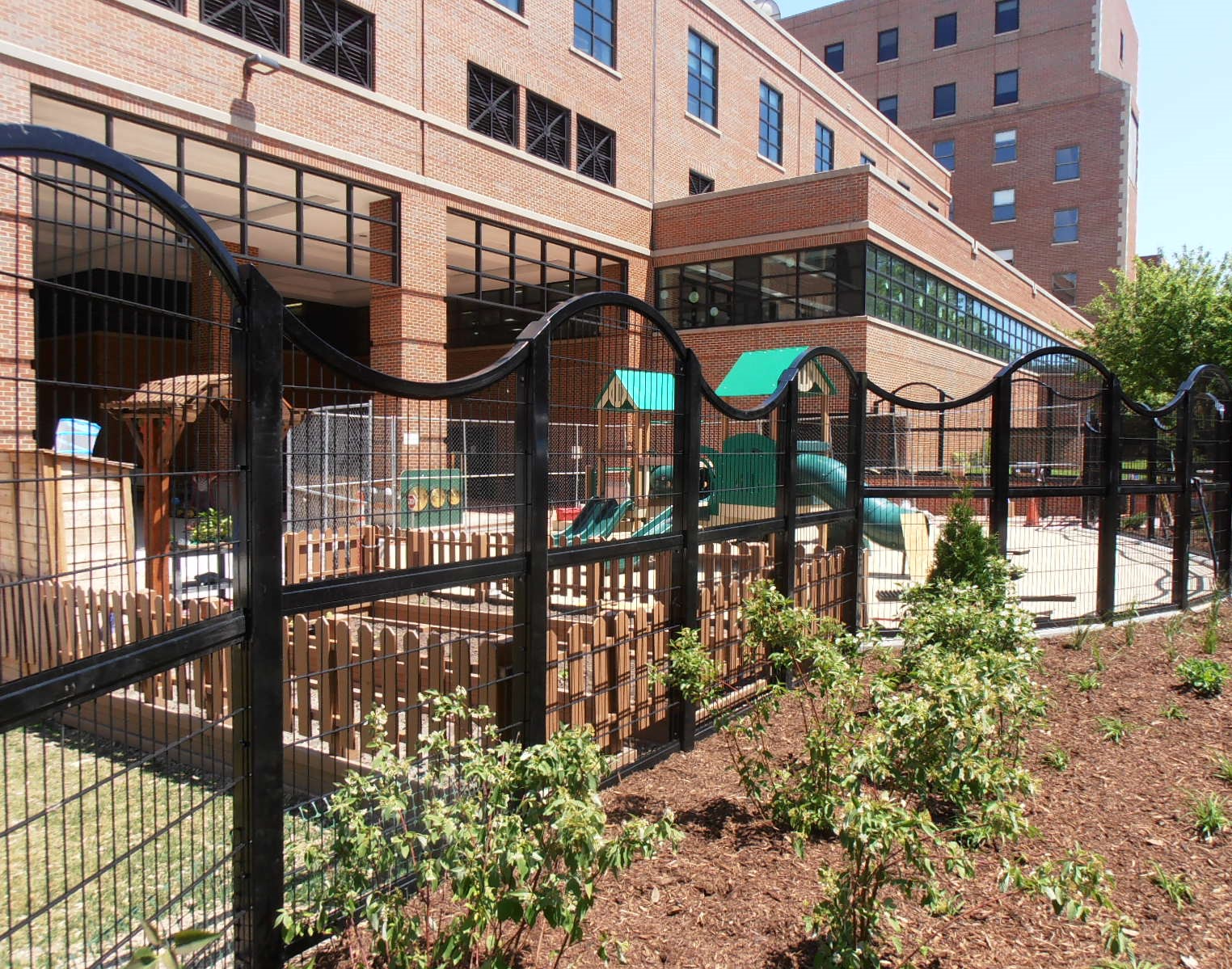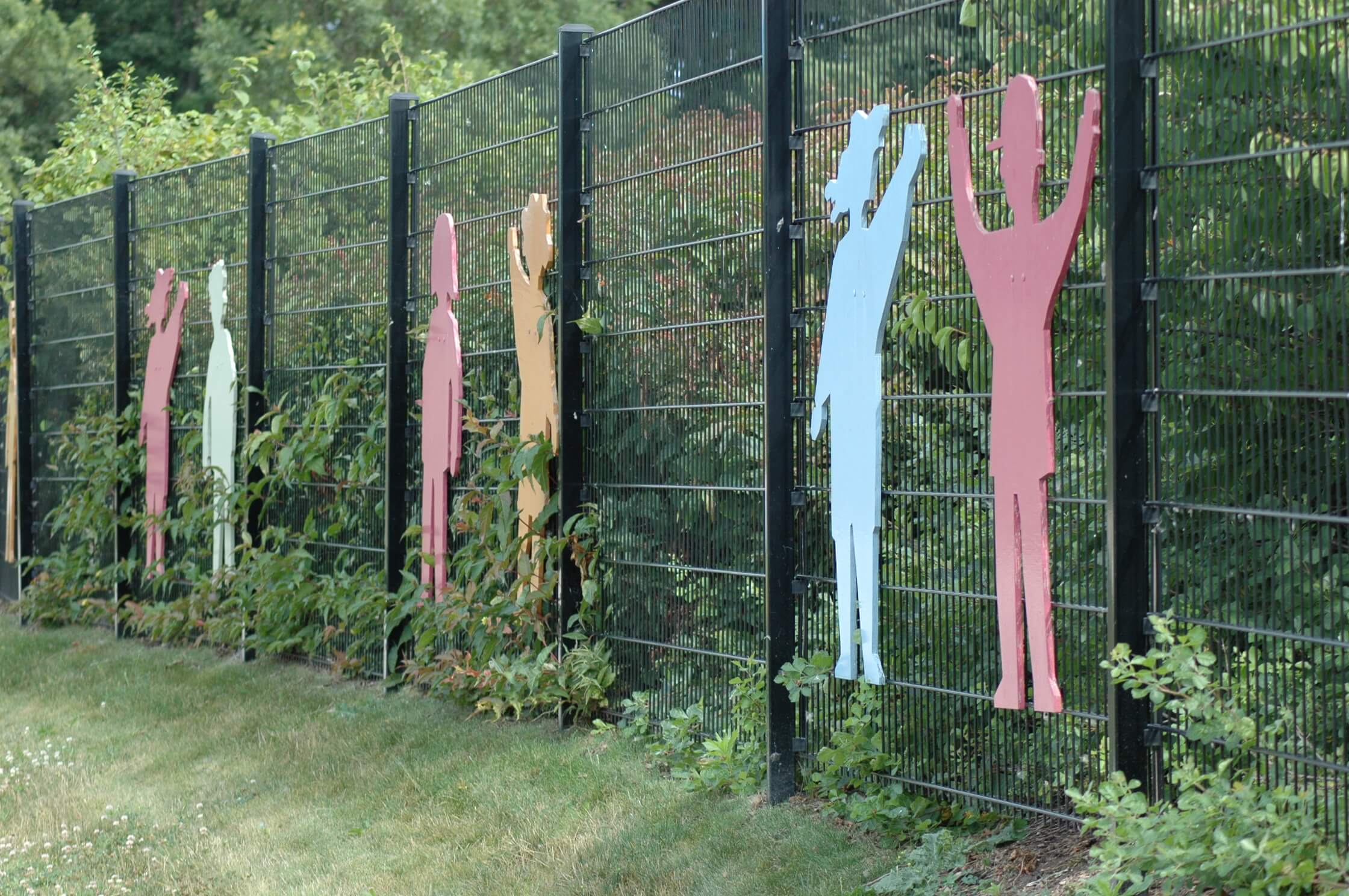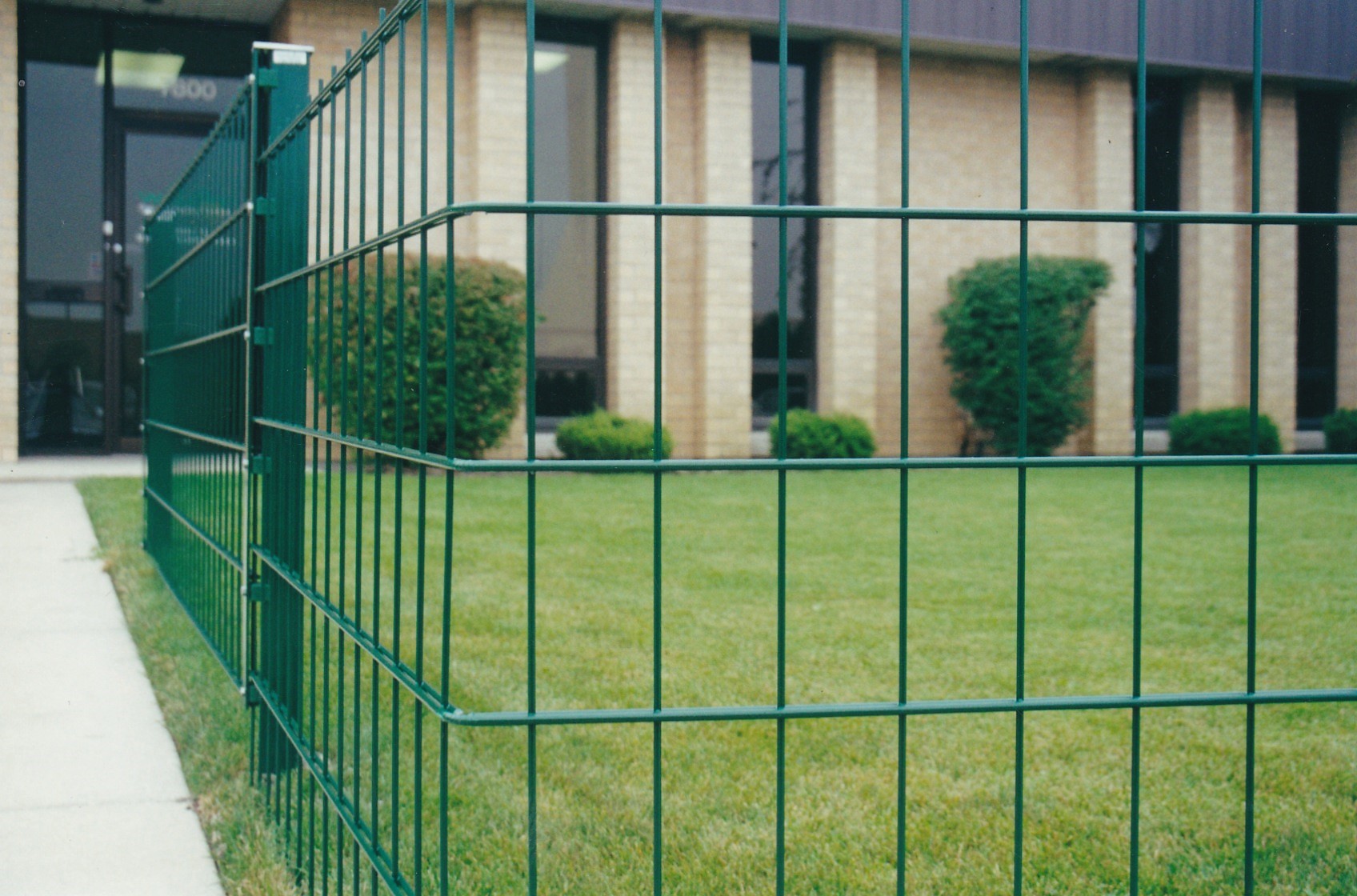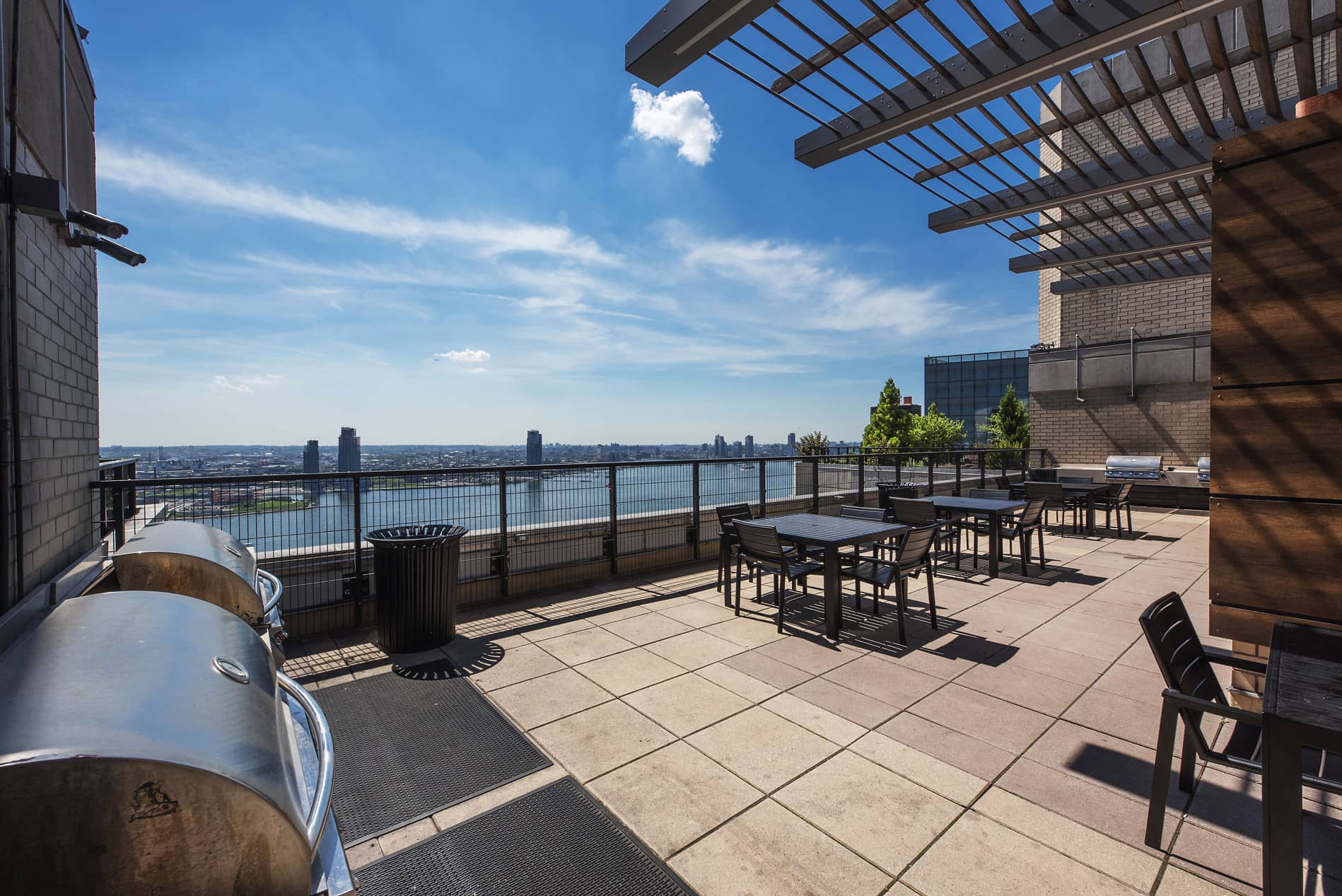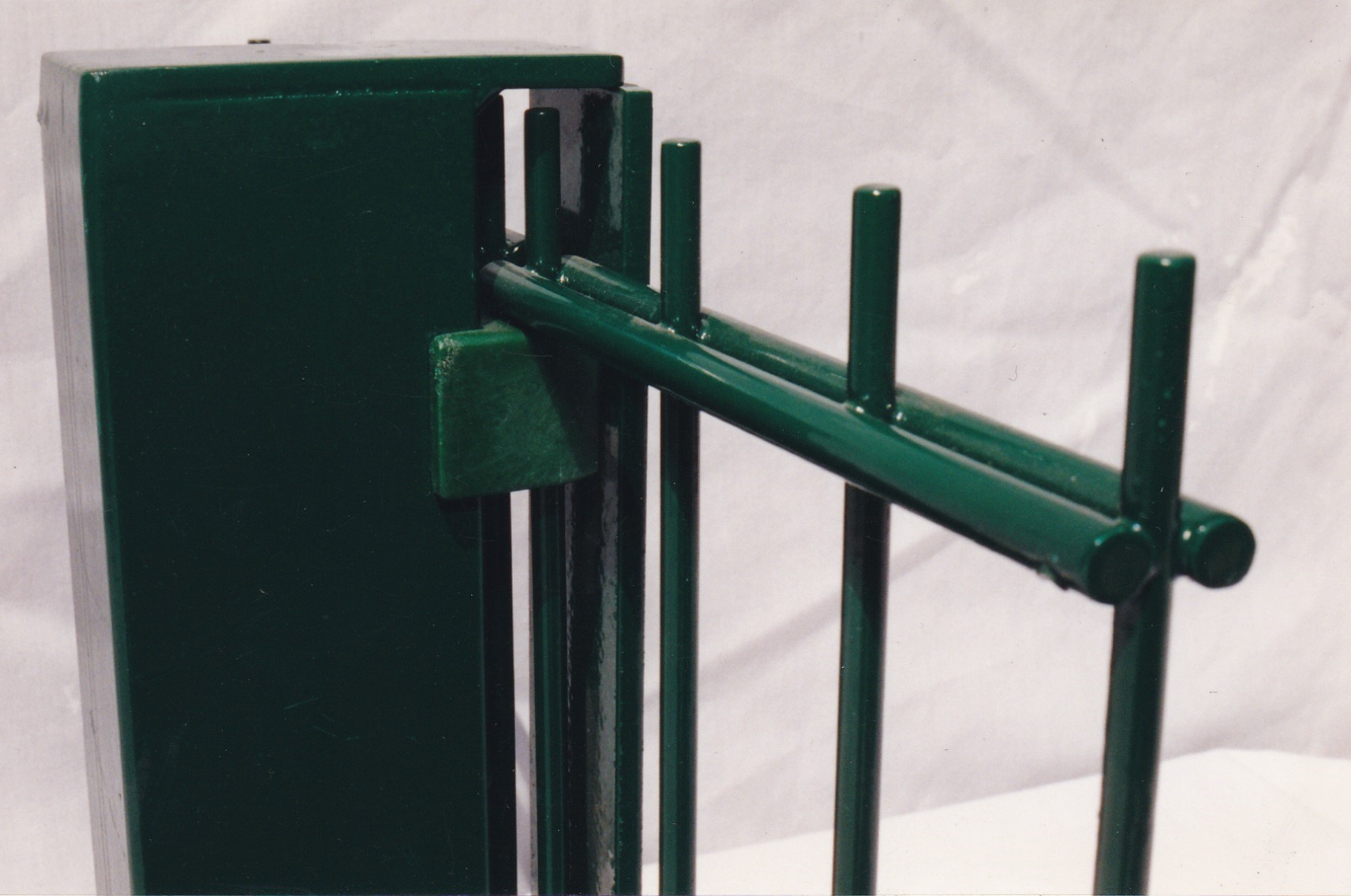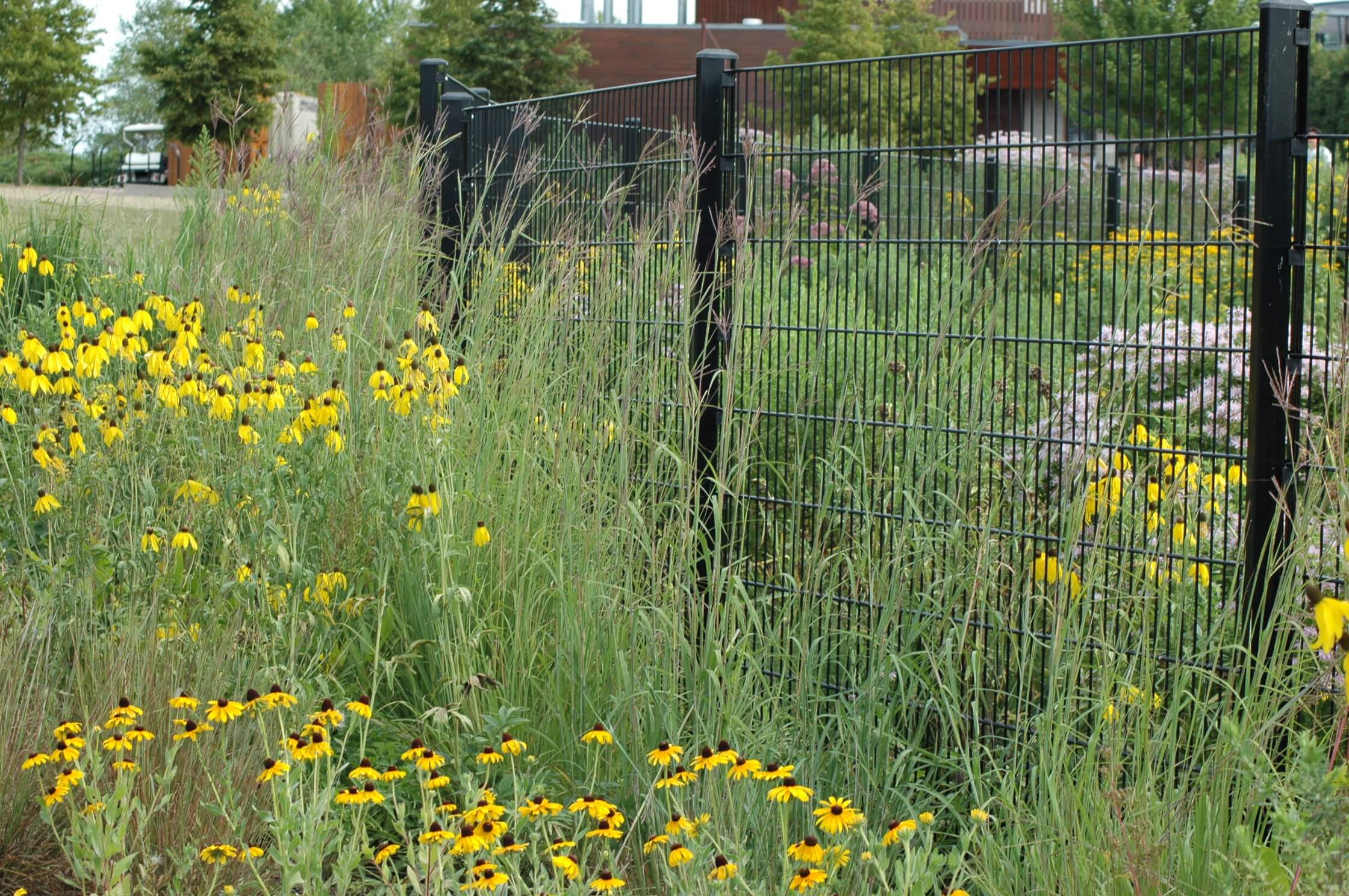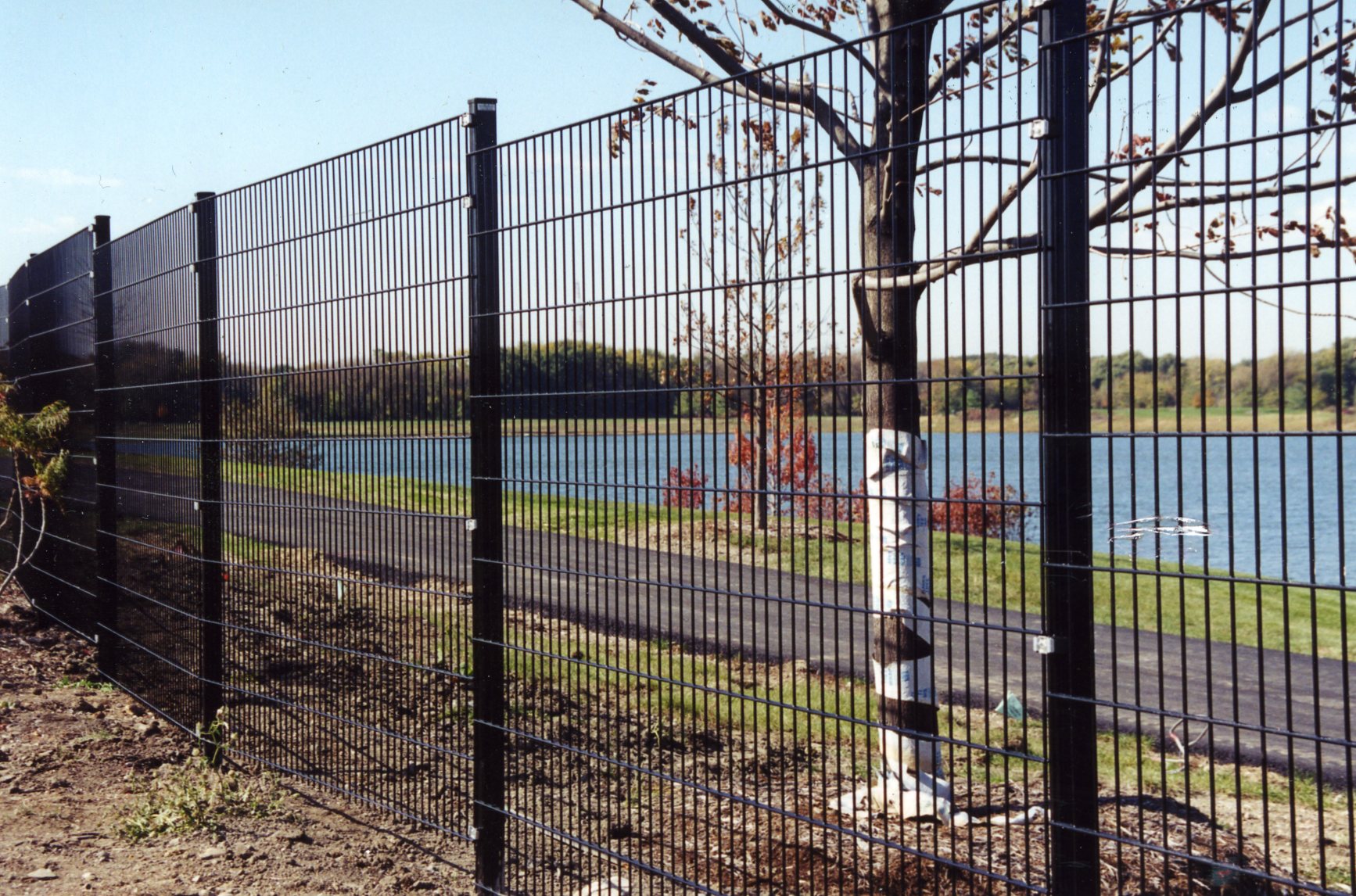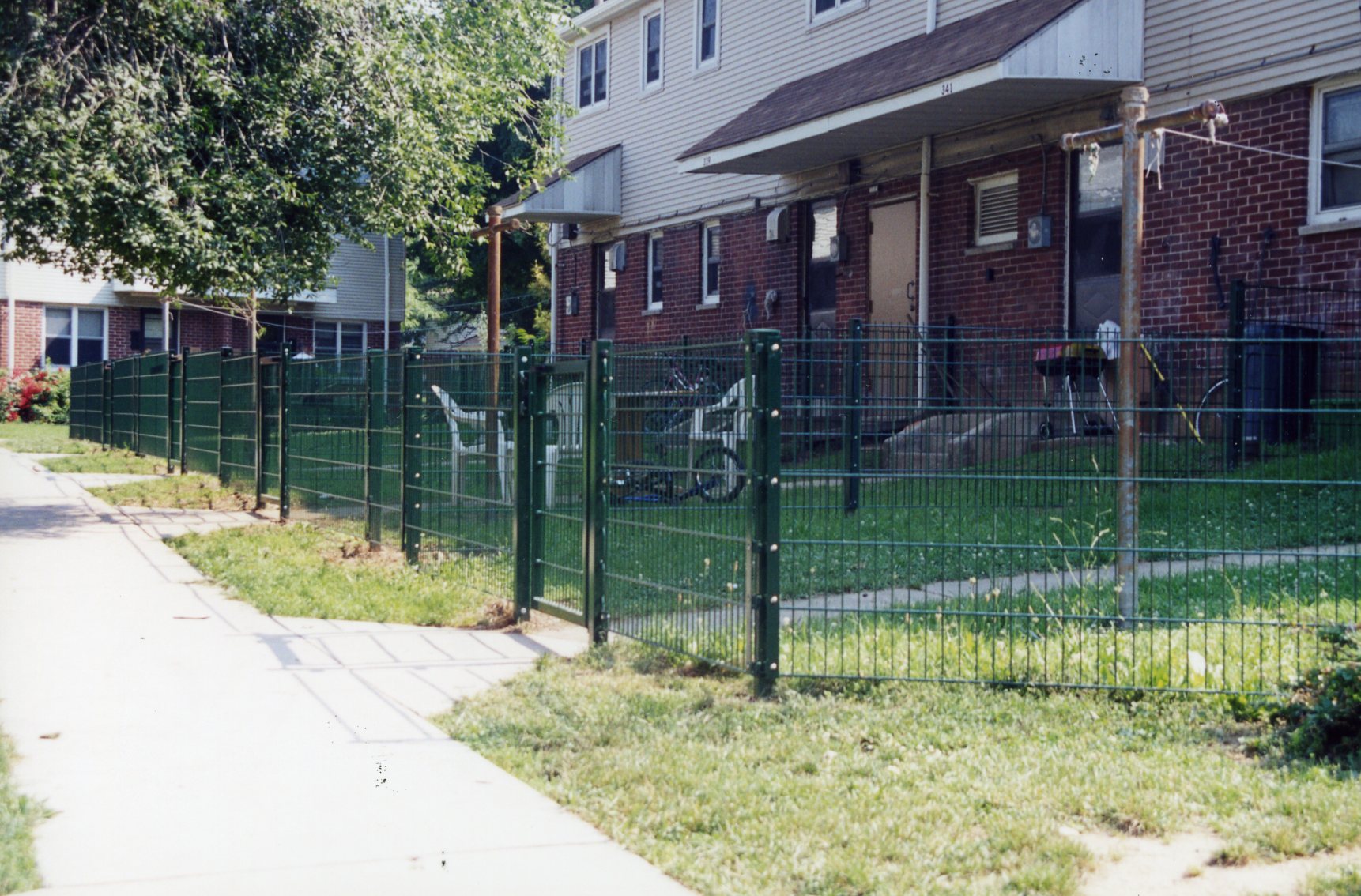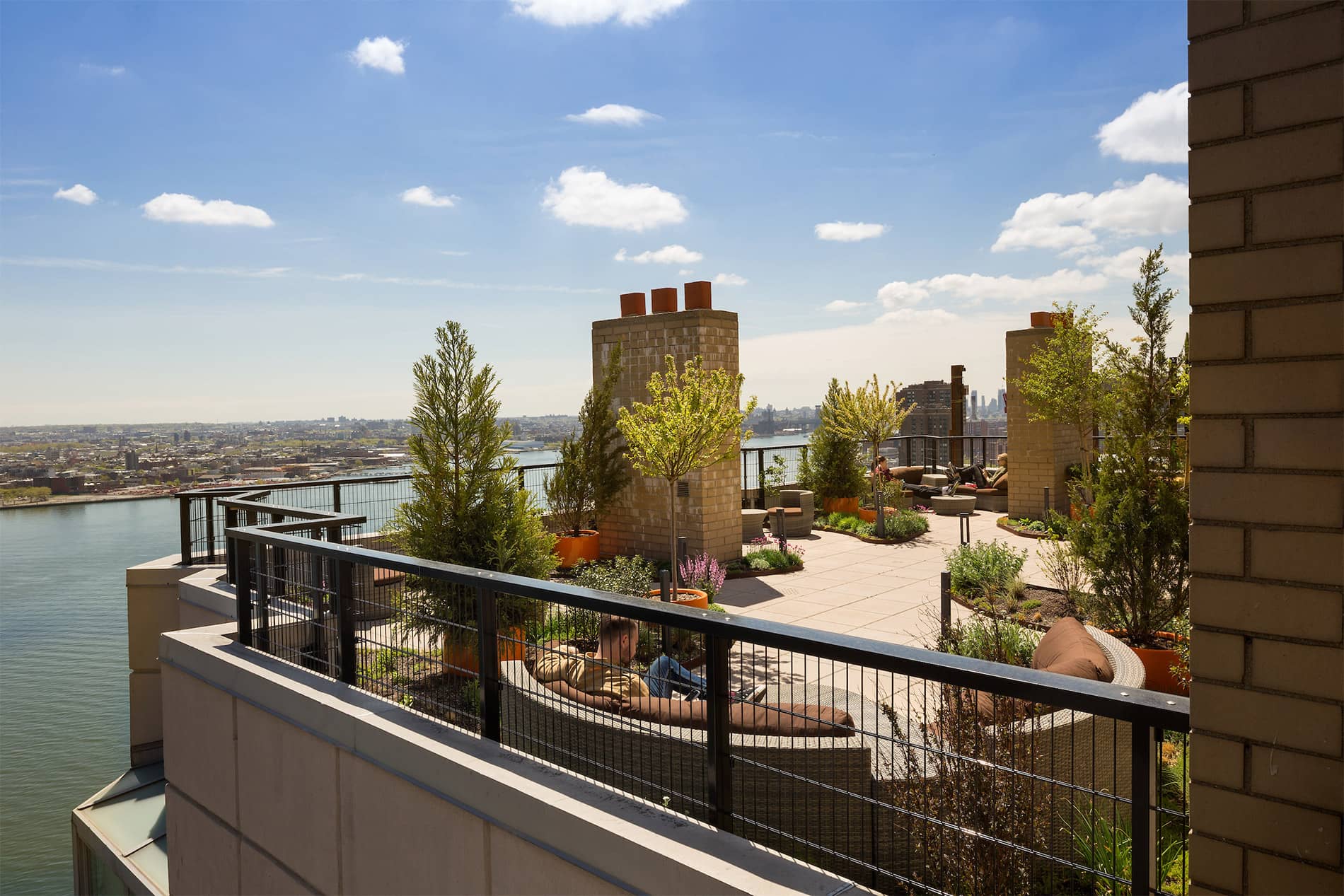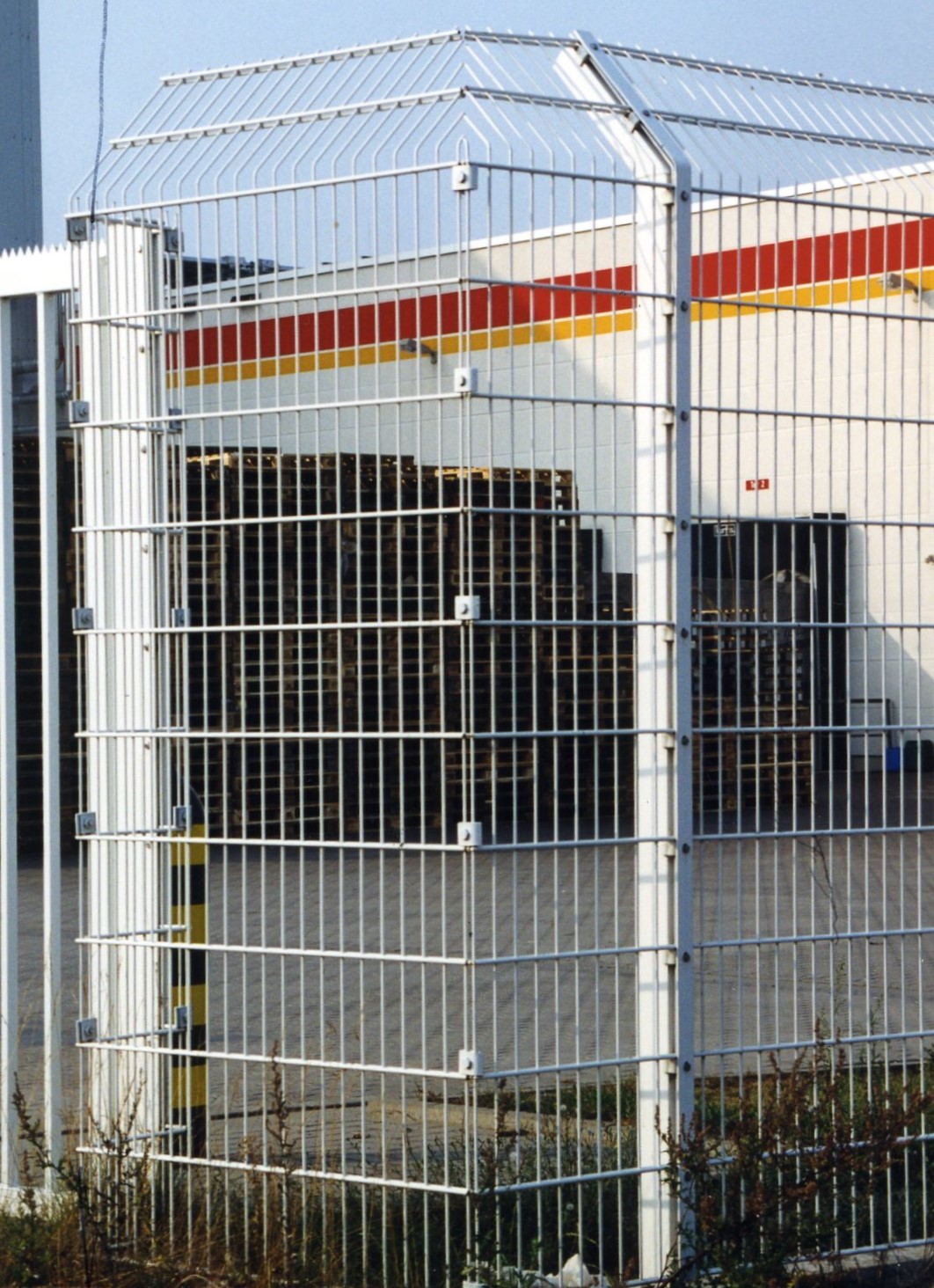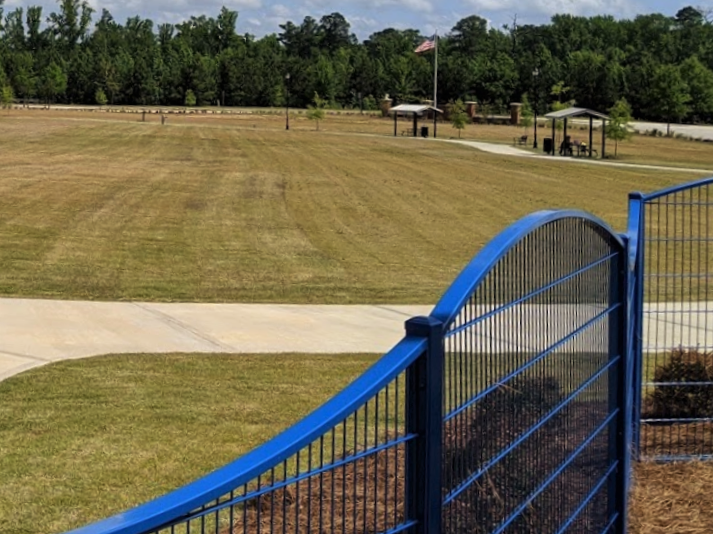 Key Benefits

Information

CAD Drawings

Specifications

Finish & Colors

Brochures
Key Benefits
RIGIDITY
MODULAR SYSTEM
LONGEVITY
EASE OF INSTALLATION
PANELS
COATING
TWINBAR vs. CHAINLINK
RIGIDITY
Highest rigidity and security available in wire mesh fence panels due to sophisticated double wire design.
MODULAR SYSTEM
The fence system is provided as a complete modular system consisting of panels in various heights, high strength steel posts and attachment hardware. A selection of swing, slide and cantilever gates are available.
LONGEVITY
METALCO's advanced polyester powder coating system assures lasting colors. The combined protection of galvanization and powder coating ensures best protection against rust and corrossion.
EASE OF INSTALLATION
The TWINBAR system components are developed with ease of installation in mind. The system can be installed quickly and efficiently.
PANELS
The panels have a width of 8′-2 1/2″ (2500mm) and are available in heights ranging from 4ft to 8ft (1200 to 2400mm). The panels have 1 1/2″ pickets extending on one side and can be installed either with the pickets at top or at bottom. The mesh size is 2″x8″ (50x200mm) and consists of one vertical wire sandwiched between to horizontal wires. The forged welded high quality double wire design assures highest strength and rigidity.
COATING
The welded mesh panels are produced from galvanized steel wire and coated with an architectural grade polyester powder coating system. Our coating system offers the highest durability available today resulting in lasting colors for many years. In addition to the best protection against rust and corrosion it is also environmentally friendlier (no solvents) than other technologies.
Example: York Housing Authority, PA
The customer was faced with the task of continuously spending money and resources to repair the existing chainlink fence. The ongoing maintenance cost had become prohibitive. The customer decided to replace the existing chainlink fence with the TWINBAR Fence System. After the initial investment the of installing the maintenance free TWINBAR fence the eliminations of ongoing repair cost paid for the new fence in no time. Not to mention the major improvement to the overall aesthetics of the project.
BEFORE                                                                            AFTER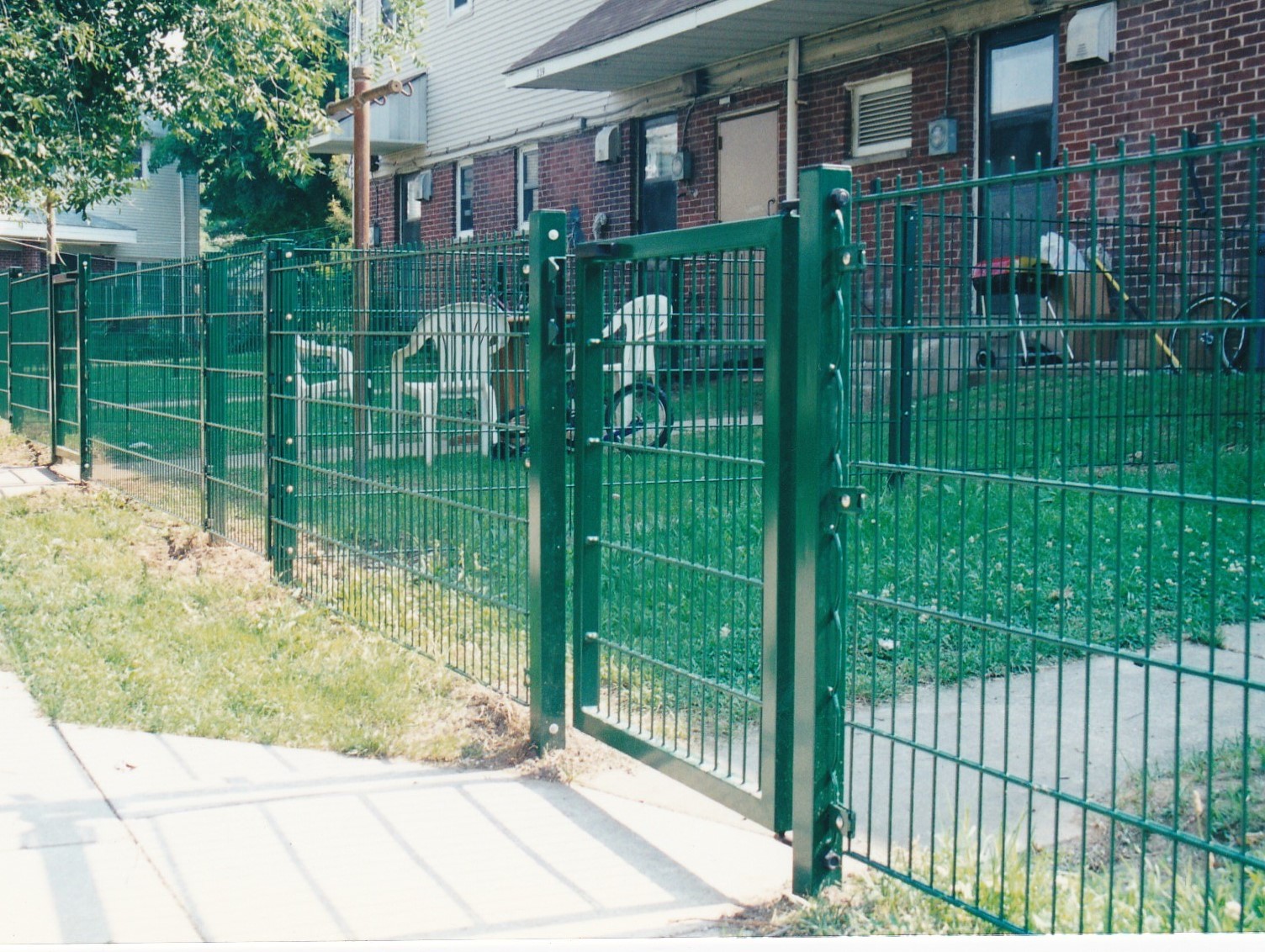 Information
BREAK THE CHAINLINK HABIT WITH A TWINBAR FENCE SYSTEM FROM METALCO
The customer was faced with the task of continuously spending money and resources to repair the existing chainlink fence. The ongoing maintenance cost had become prohibitive. The customer decided to replace the existing chainlink fence with the TWINBAR Fence System. After the initial investment the of installing the maintenance free TWINBAR fence the eliminations of ongoing repair cost paid for the new fence in no time. Not to mention the major improvement to the overall aesthetics of the project.
Make no mistake; chainlink is neither secure nor vandal resistant. Its made of thin wire which can be cut with small wire snips. The low cost of the initial investment comes at a price and the aggravation and the cost of ongoing repairs. See the dramatic difference!
Specifications
"TWINBAR" Fence System Specifications
MFR offers technical assistance to architects, engineers, contractors, owners and facility managers regarding the design and installation of our products. We have provided many custom solutions for unusual situations. Let our experienced engineers assist you to determine the optimum design for your project.
MR-MANUFACTURER
MFR Manufacturing Corp, Inc., 1065 Sill Ave, Aurora, IL  60506
Tel: 815-318-0839, FAX 815-552-3315, e-mail: [email protected]
PP-PRODUCT PRESENTATION
Electro-forged welded steel fencing that is galvanized and powder polyester coated. The panels are made of an electro-forged wire mesh. The vertical rods are placed (sandwiched) between two horizontal rods. The rods are electro-forged welded at each crossing. The standard panel length is 8′-3″. The TWINBAR panels are available in different mesh sizes and different material strengths. The panels are prefabricated for heights from 2′ to 8′. Heights of more than 8′ are accomplished by combining panels with a different or equal height. Special panels for corners with different angles are available on request. The posts are made of square tubular steel of different sizes depending on the required overall height. The panels are mounted onto the front of the posts with pre-assembled mounting brackets or with a pre-assembled lock bar. All post-panel connections are utilizing a patented nylon setting to reduce rattling noise caused by wind, vibrations or other sources. The mesh size is designed according to code. A sphere of 4″ cannot pass through the openings.
TWINBAR ®
Mesh size 2″x 8″ (50x200mm) center Vertical rods are dia. 1/4″ = gauge-5, (6mm), 2 Horizontal rods are
dia. 1/4″ = gauge-4, (6mm) Panel Width and Post Spacing 8′-3″ (2510mm).
Fence Types and Height available:
Twinbar

Fence Height
No. of Panels and  Heights
Fence Height
4′-0″ (1230)
1x 4′-0″ (1230)
2 3/8″ x 1 5/8″  (60×40)
4′-8″ (1430)
1x 4′-8″ (1430)
2 3/8″ x 1 5/8″  (60×40)
5′-3″ (1630)
1x 5′-3″ (1630)
2 3/8″ x 1 5/8″  (60×40)
6′-0″ (1830)
1x 6′-0″ (1830)
2 3/8″ x 1 5/8″  (60×40)
7′-3″ (2230)
1x 7′-3″ (2230)
2 3/8″ x 1 5/8″  (60×40)
8′-0″ (2430)
1x 8′-0″ (2430)
2 3/8″ x 1 5/8″  (60×40)
10′-0″ (3060)
1x 4′-8″ (1430) + 1x 5′-3″ (1630)
3″ x 1 5/8″  (60×40)
12′-0″ (3660)
1x 6′-0″ (1830) + 1x 6′-0″ (1830)
3″ x 1 5/8″  (60×40)
15′-0″ (4490)
1x 7′-3″ (2230) + 1x 7′-3″ (2230)
4″ x 1 5/8″  (60×40)
19′-6″ (2430)
1x 7′-3″ (2230)+1x 6′-0″ (1830)+1x 6′-0″ (1830)
4″ x 1 5/8″  (60×40)
( ) denotes metric

Security Options
Security options such as angled tops, barb wire attachments, electrifications and sensor wiring are avaiable on request.
AI-ASSEMBLY, INSTALLATION
Fence posts are of sufficient length to allow for setting into concrete footers. Posts with flanges (base plate) are also available. The fence post spacing is 8′-3″ (2510mm) apart on center. However, drawing will call out special spacing when required or to adjust for end pieces. In-ground posts may be set in concrete into hole 12″ (303mm) in diameter for terminal posts and 10″ (254mm) in diameter for intermediate posts. Concrete should be 6″ (152mm) deeper than posts. Deeper and wider settings may be necessary in some locations. It is recommended that the fence be temporarily erected using 2″x 4″ supports. After the fence is plumb and level, pour concrete grouting into holes. The panels are mounted onto the front of the posts with pre-assembled mounting brackets or with a pre-assembled lock bar. The panels simply snap into the bracket or lock bar. The brackets or lock bar bolts shall be tightened with ratchet and hex sockets or with a power tool and hex sockets. Corner can be made in the field by simply cutting the horizontal rod with a bolt cutter on one side of the panel. This allows the panel to be bent to any angle required.Installation of this fencing system is quick and easy.Posts can be attached to the structure below in several ways: Using the recessed method, posts are set into cored holes or sleeves and anchored with non-shrink grout. Using the surface mount method, mounting plates are attached to each post and bolted to the structure below utilizing expansion bolts or other fastening systems. Using the face mount method, the posts are mounted to the face of the structure typically below the level of the walking surface.
MF-MATERIALS, FINISHES
Thermosetting Polyester Powder Finish
MFR Fence and railing panels are protected by what we believe is the best finish available today. The computer controlled hot-dip galvanizing and the thermosetting polyester powder finish give the MFR System the highest possible protection against rust and corrosion. The advanced polyester powder coating technology is environmentally friendly (no solvents, lead free) and offers a large color selection.
Note: Due to do the nature of hot-dip galvanizing, the galvanized coating and powder coat can leave impurities on the treated surface, i.e., flashing, drips, drops, unevenness, roughness, pinholes etc. These do not impair the coating in terms of corrosion resistance and have no impact on the warranty. If a perfectly smooth surface is desired, non-galvanized powder coated only finish shall be specified.
In the interest of improving quality and design, Atlantis Products, Inc., Inc. reserves the right to change specifications without prior notice.
Colors
Eight standard colors are available: white, black, blue, green, red, yellow, gray and brown. Additionally, we offer an almost unlimited selection of custom colors. The polyester powder coating is available for all our products including oversized parts, i.e. large gates.
20-Year Limited Warranty
MFR fencing systems are free from defects in material and workmanship.
The polyester-coated galvanized metal is guaranteed not to rust, crack, peel or blister for a period of 20 years. Accidental damages, defects resulting from improper installation and damage from vandalism or abuse are not included. Warranty is limited to prorated value of the coating, not to exceed the original value of the coating.
AC-AVAILABILITY, COST
Availability: MFR fencing is carried in stock in large mats or prefabricated panels. Jobs are fabricated and coated before being shipped throughout the United States.
Cost: Costs are quoted on a per-job basis due to varying requirements of each project. Costs may be obtained by calling:
Tel: 815-318-0839
FAX 815-552-3315
WEB SITE: www.mfrcorp.com
E-MAIL: [email protected]
OM-OPERATION, MAINTENANCE
The advanced coating method supplied on the MFR fencing systems requires no maintenance.
Finish. Colors. Coating.
The railing systems high rigidity is accomplished by use of combined steel bars which electro forged cross rods. Wide selection of a variety of different mesh sizes to match your project needs. All railing systems are designed to meet the strength requirements of standard building codes. Custom engineered systems can be designed to match any strength requirement for specific local building codes.(i.e. high rise roof top railings)
Polyester Coating 90/100 micron
Zinc base E-Coat layer and zinc rich powder layer / alternate hot dip galvanized zinc coating ASTM123
High Strength Steel
*may vary by product type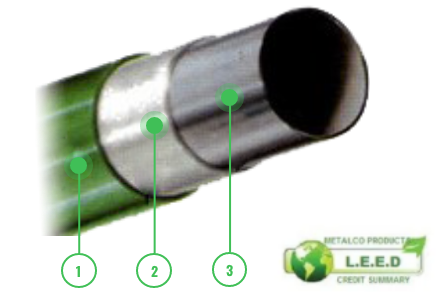 Powder Coating is Eco Friendly
Our Powder Coatings are environmentally friendly and are an organic high quality finished surface providing integrity, durability, and a beautiful appearance over an extended period of time.
Powder Coating has been proven to be safer for the environment than wet paint applications. Most wet paints have solvents that are harmful to the environment. However, powder coat is solvent-free and applied electrostatically.
Ecologically there are no VOCs emitted and very little waste is produced because most powder coating overspray can be reused, greatly reducing the waste commonly found in liquid painting.
Environmental Impact of Powder Coating
Despite all the care that is taken to protect the environment, there are still benefits to be gained.
More importantly, the long term effect of powder coating the product for corrosion protection. Our coating system protects the metals which are exposed to the project conditions, which in turn enjoy a longer lifetime and require far less maintenance. Decay and early replacement of parts are prevented or at best minimized.
In the long run, powder coating will replace its counterpart, wet paint, in more and more areas. Technically, powder coating competes with wet paint head to head. In addition, powder coating is more friendly to the environment than wet paint, for the same cost, yet powder coating also has the advantage of superior mechanical and anti-corrosive properties. Whereas wet paint is all washed up!
Another advantage of using powder coatings is the subtraction of solvents. The powder is applied without any additives. The harmful emission of V.O.C., as used in wet paint, does not occur. The environment also benefits from the electrostatic adhesion of the metal to the powder particles. This adhesion creates a smooth and even layer that covers the edges of the metal object. This eliminates sharp edges that need to be ground into shape. The powder, not attracted to the substrate is contained and reused. Wet paint overspray has to be disposed of as chemical waste.
To protect steel from being affected by corrosion it may be provided with a powder coating. During this process, powder is electrostatically applied to galvanized or a black steel product. It is then cured. The very durable coating that is formed protects the underlying metal and gives the object a shiny and bright appearance.
Powder coatings are applied to steel, hot dip galvanized steel and aluminum as an anti-corrosive layer. The powder is electrostatically applied to the metal. No solvents are used in this process, which means that it is far more friendly to the environment than the alternative wet paint process. Powder that is not adhered can be reused, whereas over sprayed wet paint has to be disposed of as chemical waste.
Powder coatings have outstanding mechanical properties, they are elastic and resistant to impact and wear. This makes powder coating ideal for applications in areas with a high risk of damage, such as stairwells, public areas, gates, lamp posts, etc.
The method for applying powder coating, electrostatic spraying, results in a very good coverage of edges. This sharply contrasts with the wet paint process, where the pressure of the spray gun pushes the paint off the sharp edges. During the powder coating, the powder is attracted evenly to all surfaces.
Hot-dip galvanization is the process of coating iron and steel with a layer of zinc by immersing the metal in a batch of molten zinc at a temperature of around 840 F (449 C). The process is inherently simple which provides a distinct advantage over other corrosion protection methods. While the steel is in the kettle, the iron in the steel metallurgically reacts with the molten zinc to form a tightly-bonded alloy coating that provides superior corrosion protection to steel.
In one word; protection. The best possible protection for steel and iron against corrosion. For more than 150 years, hot-dip galvanizing after fabrication has been specified to combat steel corrosion in the harshest environments throughout various markets. Hot-dip galvanizing (HDG) is often used to protect steel from corrosion in some of the harshest environments imaginable, yet it provides maintenance-free longevity for decades.
One reason are size limitations. The other is the finish itself. The zinc has a tendency to build up differently on welds. Also differently on some parts where the chemical composition is even slightly different. This causes uneven surfaces with drips, drops, bumps and other impurities. These are inherent in the hot dip galvanizing process and cannot be avoided or completely controlled. Please expect a certain amount of roughness on fabricated and welded steel to appear after the hot dip galvanizing. Sanding or filing down is NOT recommended as not to disturb the protection against rust and corrosion or void the warranty.
Do NOT specify hot dip galvanizing if you expect a perfect or "car like" paint finish. Despite that disadvantage, we recommend hot dip galvanizing for outdoor applications in rough climates or where salt spray during the winter months is expected. We do not feel hot dip galvanizing is needed for interior application of in climates where a regular powder coated or paint finish is providing sufficient protection against corrosion.
Do NOT specify hot dip galvanizing in coastal areas or tropical climates. We define coastal areas within 20 miles from large bodies of sea (salt) water. It is correct that hot dip galvanized performs very well in winter climates and protects steel well against street salt, however it does not perform well as a final coat or finish in areas with ocean spray or ocean salt spray in the air. Do NOT specify hot dip galvanized in coastal or certain tropical areas if you intent to utilize a polyester powder top coat. The adhesion of conventional polyester powder coatings tend to break down in these climates if applied onto hot dip galvanized surfaces. Please ask for our special PLASCOAT finishes for applications in such problem areas.
Organizations that use our products