Finish. Colors. Coating.
Backed by our 20-year manufacturer warranty, Metalco products are built to last with a variety of durable finish options. Our selection of standard and design colors can be viewed below, but custom colors are available upon request. MFR/Metalco also offers color matching to suit any application.
Polyester Coating 90/100 micron
Zinc base E-Coat layer and zinc rich powder layer / alternate hot dip galvanized zinc coating ASTM123
High Strength Steel
*may vary by product type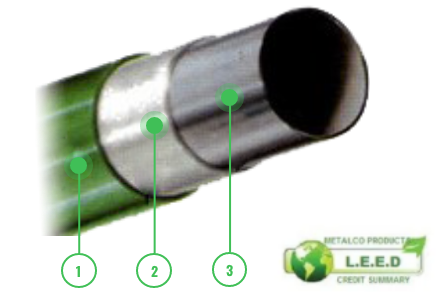 Powder Coating is Eco Friendly
Our Powder Coatings are environmentally friendly and are an organic high-quality finished surface providing integrity, durability, and a beautiful appearance over an extended period of time.
Powder Coating has been proven to be safer for the environment than wet paint applications. Most wet paints have solvents that are harmful to the environment. However, powder coat is solvent-free and applied electrostatically.
Ecologically there are no VOCs emitted and very little waste is produced because most powder coating overspray can be reused, greatly reducing the waste commonly found in liquid painting.
Environmental Impact of Powder Coating
Despite all the care that is taken to protect the environment, there are still benefits to be gained.
More importantly, the long term effect of powder coating the product for corrosion protection. Our coating system protects the metals which are exposed to the project conditions, which in turn enjoy a longer lifetime and require far less maintenance. Decay and early replacement of parts are prevented or at best minimized.
In the long run, powder coating will replace its counterpart, wet paint, in more and more areas. Technically, powder coating competes with wet paint head to head. In addition, powder coating is more friendly to the environment than wet paint, for the same cost, yet powder coating also has the advantage of superior mechanical and anti-corrosive properties. Whereas wet paint is all washed up!
Another advantage of using powder coatings is the subtraction of solvents. The powder is applied without any additives. The harmful emission of V.O.C., as used in wet paint, does not occur. The environment also benefits from the electrostatic adhesion of the metal to the powder particles. This adhesion creates a smooth and even layer that covers the edges of the metal object. This eliminates sharp edges that need to be ground into shape. The powder, not attracted to the substrate is contained and reused. Wet paint overspray has to be disposed of as chemical waste.
To protect steel from being affected by corrosion it may be provided with a powder coating. During this process, powder is electrostatically applied to galvanized or a black steel product. It is then cured. The very durable coating that is formed protects the underlying metal and gives the object a shiny and bright appearance.
Powder coatings are applied to steel, hot dip galvanized steel and aluminum as an anti-corrosive layer. The powder is electrostatically applied to the metal. No solvents are used in this process, which means that it is far more friendly to the environment than the alternative wet paint process. Powder that is not adhered can be reused, whereas over sprayed wet paint has to be disposed of as chemical waste. Powder coatings have outstanding mechanical properties, they are elastic and resistant to impact and wear. This makes powder coating ideal for applications in areas with a high risk of damage, such as stairwells, public areas, gates, lamp posts, etc. The method for applying powder coating, electrostatic spraying, results in a very good coverage of edges. This sharply contrasts with the wet paint process, where the pressure of the spray gun pushes the paint off the sharp edges. During the powder coating, the powder is attracted evenly to all surfaces.
Hot-dip galvanization is the process of coating iron and steel with a layer of zinc by immersing the metal in a batch of molten zinc at a temperature of around 840 F (449 C). The process is inherently simple which provides a distinct advantage over other corrosion protection methods. While the steel is in the kettle, the iron in the steel metallurgically reacts with the molten zinc to form a tightly-bonded alloy coating that provides superior corrosion protection to steel.
In one word; protection. The best possible protection for steel and iron against rust and corrosion. For more than 150 years, hot-dip galvanizing after fabrication has been specified to combat steel corrosion in the harshest environments throughout various markets. Hot-dip galvanizing (HDG) is often used to protect steel from corrosion in some of the harshest environments imaginable, yet it provides maintenance-free longevity for decades.
One reason are size limitations. The other is the finish itself. The zinc has a tendency to build up differently on welds. Also differently on some parts where the chemical composition is even slightly different. This causes uneven surfaces with drips, drops, bumps and other impurities. These are inherent in the hot dip galvanizing process and cannot be avoided or completely controlled. Please expect a certain amount of roughness on fabricated and welded steel to appear after the hot dip galvanizing. Sanding or filing down is NOT recommended as not to disturb the protection against rust and corrosion or void the warranty.
Do NOT specify hot dip galvanizing if you expect a perfect or "car like" paint finish. Despite that disadvantage we recommend hot dip galvanizing for out door application in rough climates or where salt spray during the winter months is expected. We do not feel hot dip galvanizing is needed for interior application of in climates where a regular powder coated or paint finish is providing sufficient protection against corrosion. Do NOT specify hot dip galvanizing in coastal areas or tropical climates. We define coastal areas within 20 miles from large bodies of sea (salt) water. It is correct that hot dip galvanized performs very well in winter climates and protects steel well against street salt, however it does not perform well as a final coat or finish in areas with ocean spray or ocean salt spray in the air. Do NOT specify hot dip galvanized in coastal or certain tropical areas if you intent to utilize a polyester powder top coat. The adhesion of conventional polyester powder coatings tend to break down in these climates if applied onto hot dip galvanized surfaces. Please ask for our special PLASCOAT finishes for applications in such problem areas.
ORGANIZATIONS THAT USE OUR PRODUCTS