When it comes to finding the right metal fabrications for your property, investing in a new railing system design is a great option. Railing systems add protection, privacy, beauty, and value to your property. With the right colors, styles, and aesthetics in place, your property can be transformed with the addition of smart railing designs. That's where MFR Corp comes into the picture. Our railing designs have helped corporations, private properties, businesses, and enterprises of all types across the nation elevate their commercial properties for decades. We are happy to help you make a wise investment in your property's future. 
At MFR Corp, we provide a wide selection of railing designs that will suit your needs, as well as 100% custom options. With so many features, add-ons, styles, colors, and customizations to choose from, the possibilities are truly endless. Learn more about our designs, solutions, METALCO products, and American-made products on our website today. You can also contact us anytime to start a free consultation process for your next railing project. Here is a quick comparison of common railing designs with MFR Corp railing systems. 
MFR Corp Railing Designs Solutions 
MFR Corp METALCO products offer a solution suitable for all types of commercial properties. We work with businesses from local school systems, universities, and childcare centers to sporting companies, local law enforcement facilities, county jails, military settings, and airports. You name it and we probably have experience creating the right fence, gate, rail, or screen systems for it. 
When it comes to our railing designs, we use computer-aided drawings, aka CAD drawings, along with our seasoned engineers and designers. Together, our design team works to create detailed blueprints of all of our designs. You can review these CAD drawings on our website to learn more about each railing design. 
Furthermore, we protect all of our railing designs under a standard 20-year warranty. 
Whatever your needs might be when it comes to a stunning, functional, and durable railing design, we have you covered. We invite you to review some of our past railing system projects on our website to start brainstorming your future project. Each of our pre-fabricated designs has multiple features to offer, including protection, security, privacy, beauty, and added property value.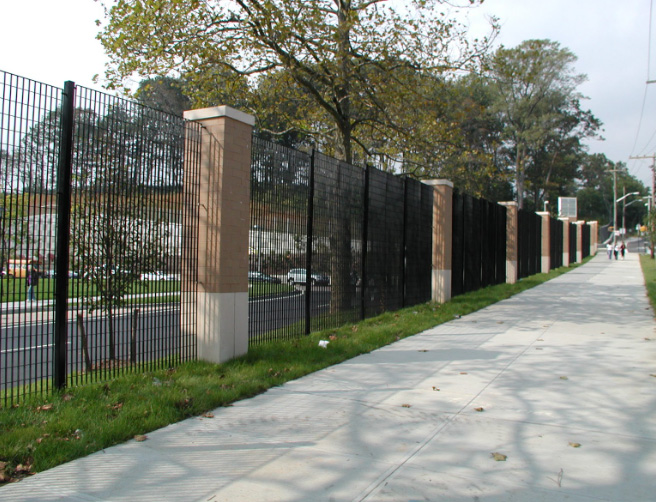 Meet the Grigliato Railing System
The first one we'll discuss is our popular Grigliato railing design. As with every design MFR Manufacturing offers, you can take the basic CAD blueprint and add unique features, colors, and functions to suit your property's needs. For example, razor wire detailing or added reverse bars could be added to the top of this railing design. However, the base design already has so much to offer in a lightweight but durable frame. The Grigliato is a great option for businesses that want to add functional aesthetic appeal in a sleek and streamlined design. This design is also commonly used for stadiums and other crowd control applications.
Our SELECT Railing Designs
Next up is our SELECT railing designs. SELECT designs are also available in the same selection of powder coating colors. With beautiful perforated paneling, woven wire detailing and expanded metal decorations, the SELECT design is definitely a showstopper. Again, we have crafted a durable but lightweight design that allows gentle airflow while securing your property in style. To learn more about this design, check our past projects on our website and contact a team representative to see how it might fit into your commercial property.  
Custom Railing Solutions for Every Property
Finally, we are here for you in case none of our pre-fabricated designs work for your needs. We understand that sometimes a custom solution is the only option. Therefore, we provide a 100% customization process which makes getting the right railing design for your needs a breeze. Just call us to set up a consultation, and we will take it from there by pairing you one-on-one with our designers. 
Contact MFR Corp Today!
When it comes to transforming your commercial property, it doesn't get any easier than the beautiful railing designs from METALCO products. MFR Corp is ready to help when you are ready to shop our wide selection of railing systems. With over 25 years of expertise in the metal fabrication industry, we know railing designs well. Contact us today to learn more about how cutting-edge technology works together with seasoned professionals to craft stunning solutions. Call us today at 815-472-9086 for more information.