Secure Your Perimeter with MFR Corporation's Airport Fencing Solutions: Unveiling Features and Benefits
AMEGO Fence Design 
MFR Corp's METALCO products can help the aviation industry. Our team has been in the metal fabrications industry for over 25 years providing American-made, high-quality solutions. We design, engineer, and manufacture fence, gate, screen, rail, and architectural pieces using locally sourced USA metals. Our team has worked on projects ranging from local schools to major sports teams, law enforcement agencies, and yes, even airport facilities. 
Airport fencing is a critical aspect of safety for passengers, airport employees, pilots, and neighboring properties. Reliable fencing for your airport facilities should be durable, weather-resistant, and made from high-quality materials. Robust airport fencing is a key element in ensuring safe arrivals, departures, and travels for all, whether the airport facility is small or a major international hub. 
Features of MFR Corporation's Airport Fencing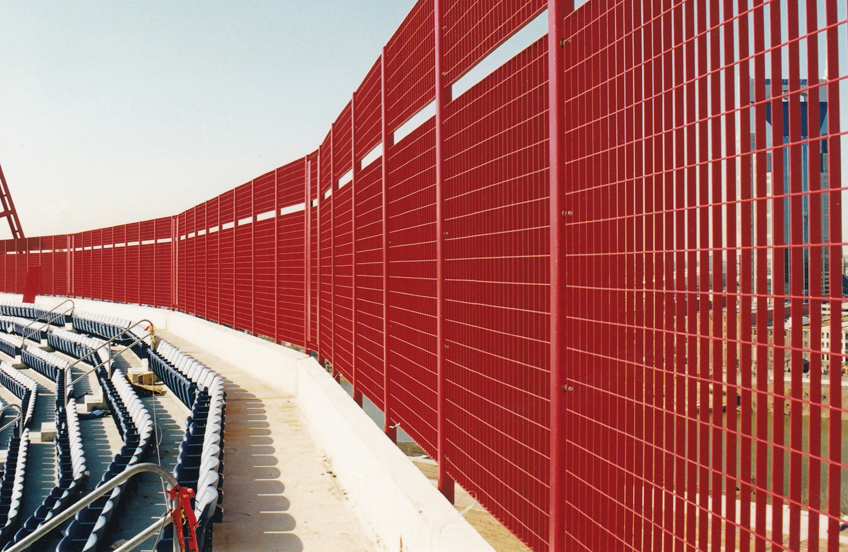 High-Strength Materials
Using high-strength materials is one of the key elements of robust and reliable airport fencing solutions. METALCO products all use 85% recycled steel from the United States. This ensures our metal creations are not weakened by mixed metals or other substances which can impair the strength of the fencing system.
 Furthermore, MFR Corp's fencing solutions are more durable and resistant to tampering. With a patented grid-lock design, our airport fence solutions are deemed virtually non-climbable and wire cutter-resistant. This provides your facilities with great protection from potential vandalism, theft, and other types of crime. Plus, it ensures the safety of employees and customers alike. With durable materials used, MFR Corp's airport fencing can also withstand greater winds and weather conditions over time.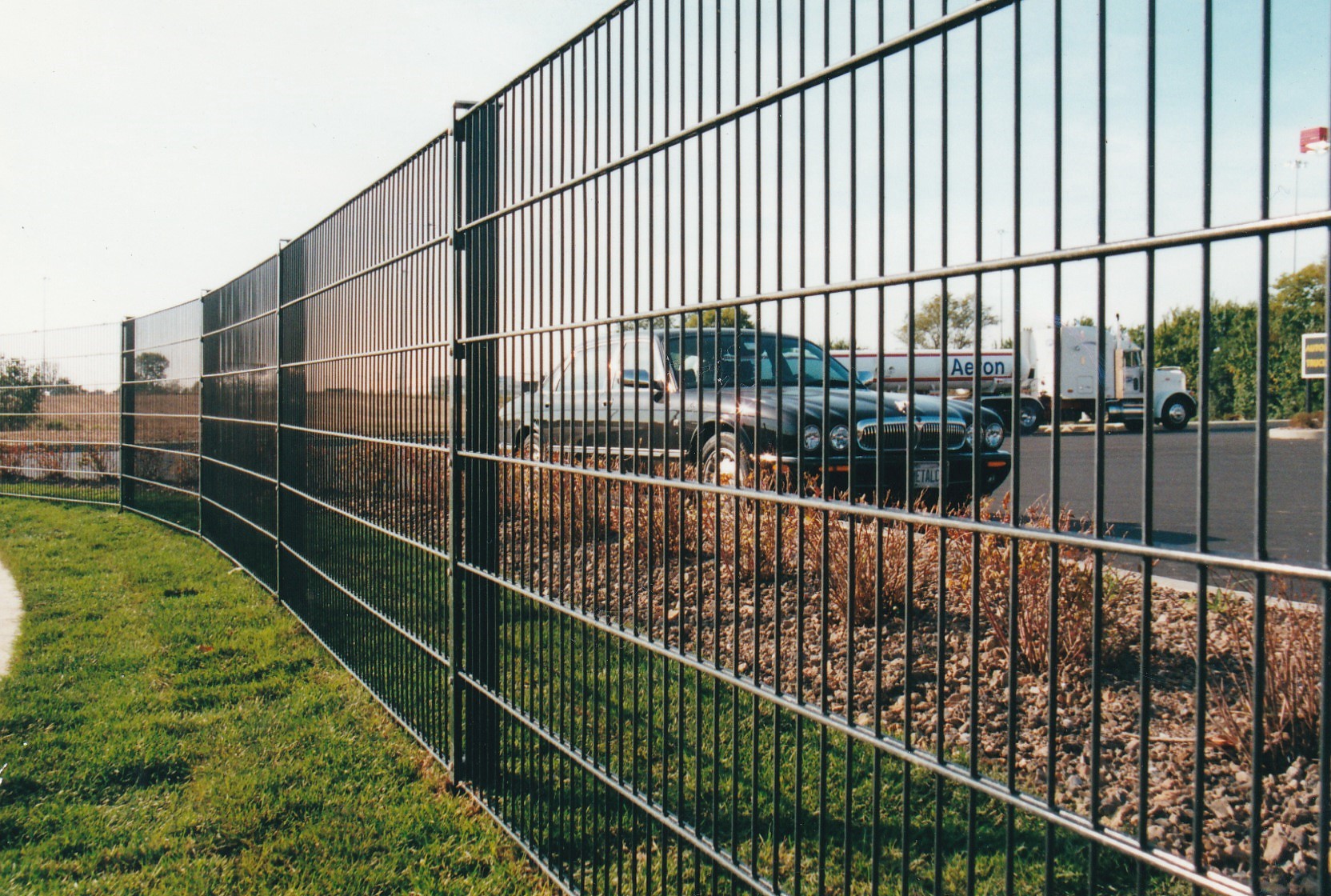 Cutting-Edge Designs
MFR Corp's METALCO designs are also aesthetically beautiful. In fact, they can help add value to your property with their smooth, streamlined, and functional elements. We offer standard design options as well as 100% custom solutions. Options such as the Grigliato, Twinbar, Amego, and Securite fences are great applications for aviation facilities.
However, a 100% customized solution allows you to add the features, functions, and styles you need. Added features include barbed wire/razor wire, access control systems, and tamper-resistant hardware. Customize any METALCO product to suit the needs of your airport fence/railing system..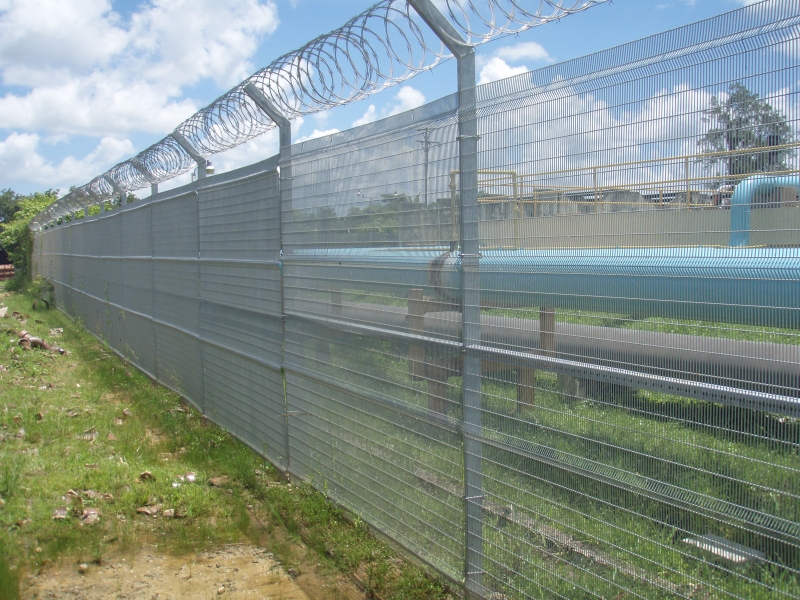 Anti-Climb Technology
When it comes to protecting your property, MFR Corp makes it easy with crime-deterring measures. As mentioned, our grid-lock design makes it virtually impossible to climb, cut through, or scale our fence designs.
Furthermore, you can enhance the security of your airport facility's perimeter with MFR Corp design solutions Our Securite fence design is a great investment for anti-climb features.With extra border protection with an overall secure perimeter fence option, you can rest assured that unwanted individuals will be kept out and people inside your facility will be safe 24/7.
Benefits of MFR Corporation's Airport Fencing
Uncompromised Security
One of the biggest benefits of airport fencing is access control. With a reliable and durable airport fence solution, you can keep unauthorized individuals outside your property parameters. This is also critical to mitigate potential security breaches where dangerous criminals or stowaways could be present.
While airport security has increased drastically over the past few decades, without proper security measures in place, it becomes easier for people to slip past. For truly uncompromised security, an airport fencing system from our METALCO team can help protect your facility.
Passenger Safety
Passenger safety is equally critical in airports. Keeping passengers away from restricted areas using fencing solutions protects against lawsuits and other liability issues. Furthermore, it ensures that all passengers are safely able to arrive at their destinations in a timely manner.
Case Studies and Success Stories
Passenger safety includes safety inside airport areas and outside on the tarmac. Proper airport fencing should secure all restricted areas, including tarmac spaces. This helps minimize accidents to passengers as well as flight personnel and airport staff.
Asset Protection
Shielding valuable airport equipment from unauthorized individuals or dangerous weather conditions is critical. This is part of asset protection within airport facilities. After all, everything from criminals who intend to vandalize or steal from your facilities to unauthorized employees can cause damage to site assets. Protecting your assets requires durable and secure fencing solutions that are suitable to your unique airport facilities.
Compliance with Aviation Regulations
Finally, one of the biggest benefits of MFR Corp's airport fencing is our aviation regulation compliance. Many aviation agencies require certain security and protection standards in place at all airport facilities. Meeting these standards is critical for the safety of employees, customers, and other citizens.
Along those same lines, MFR Corp's team of designers and engineers works to adhere to aviation guidelines and regulations. Meeting these standards helps us set the bar for high-quality, American-made aviation fencing to secure your premises with functional designs.
Customization Options
 Fence Height and Configuration
Many fence systems need to be specialized to meet your unique airport facility's needs. Our customization options make this simple. Some airport fences require extended heights and styles. Our fence height and configurations are limitless when it comes to a 100% custom design for your property.
We can also adapt to different security needs for high-security areas which might require extra height or width for oversized vehicles. We can tailor each aspect of your airport facility's fencing to different areas as needed.
Ornamental Elements
Balancing security with aesthetics is a matter of course; it's not all about functional elements with airport fencing. Beauty is accomplished with ornamental detailing.
Examples include: barbed wire detailing, angled returns, keypad access, and ornamental designs integrated into your fencing system. We even can integrate branding elements into your fence design to showcase all your aviation company has to offer.
Case Studies and Success Stories
Some of our past projects at airport facilities include work at the Walla Walla Airport in Washington State and work for the Department of the Air Force in Nevada. Other successful past projects include our work with Fort Lauderdale Airport showcasing our Grigliato railing system and at the Midway Airport in Chicago.  For all types of aviation applications, airport fencing is critical to secure the perimeter, add functionality, and limit access to authorized personnel only in restricted regions.
We used MFR Corp to handle some fencing at our local airport. They were knowledgeable about compliance details and able to help us customize exactly what we needed. Our representative was responsive and even helped us save money from our original plans.
Whether you are working on a small airport fencing need or you have a whole facility to update, these guys are great! We were so impressed with the service we received throughout our entire project. The work was excellent, and the quality of the fence they completed was impressive.
Security was a major concern on one area of our airport grounds. We needed fencing that would effectively keep people out of a specific area. It was also a high focal point so it had to look great. We are so happy with the results of our fence, and MFR Corp did an excellent job.
ORGANIZATIONS THAT USE OUR PRODUCTS