School Campus Fencing
Fencing for school campuses, universities, playground settings, and local childcare facilities should be secure, reliable, and affordable. That is what we believe at MFR Corp METALCO fencing solutions. As a result, we offer school campus fencing solutions that meet the exact needs of school and university facilities. School fencing is made to keep dangers out and keep children, adults, and guests secure inside the perimeter of a property.
There are many clear benefits of investing in a campus fence from the professionals at MFR Corp. School fencing is designed specifically with a few main objectives, including safety, functionality, and aesthetic property value. Unlike alternative fencing options, campus fencing is durable, long-lasting, and can offer additional security functions or features as needed. With a highly customizable process, it's no wonder that campus fencing is the perfect investment for multiple applications, not just school facilities. Explore some of our past projects in school, playground, courtyard, and university campus fencing on our website today.
Types of School Campus Fencing
There are many types of school campus fencing, including playground and park fencing solutions. Each comes with unique features which are tailored to the site's needs. For example, playground fencing needs to be secure, durable, and reliable since it not only keeps children safe inside but also limits outsiders' access. Reliable playground fencing can also integrate functional design elements to add beauty, flair, and a playful style to your property. 
Along those same lines, park fencing needs to be able to withstand aging in natural weather conditions. Park fencing does not always need to be as secure, depending on the ultimate objective and nature of the park design. Many park fencing solutions are designed to be fluid, functional, and durable. 
Versatile solutions from our Twinbar and Amego styles, such as tips installed up for added security versus down for a handrail appearance, are popular at METALCO.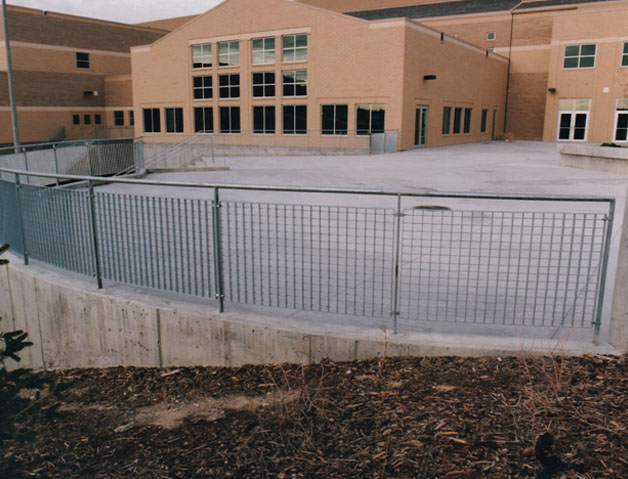 Campus fencing can come equipped with a wide range of useful features and functions. Our METALCO products are easily customized to best suit your individual needs.
Durability
Durability is instrumental with school fencing of all types. Durability is simple when reliable materials are used, like 85% recycled steel sourced locally in the United States.
Security
Security is also essential for courtyard, playground, park, and school fencing of all types. For added security, our Twinbar and Amego fencing options are a great investment. With easy customization features, added security for school facilities and park projects is simple. Safety features such as anti-climb grid-lock systems that are virtually wire cutter-resistant are important to secure school properties, where children are present.
Aesthetics
Other important factors include aesthetics and upkeep. Low upkeep is a great way to save money with reliable fencing that is built to last and withstand natural weather patterns. MFR Corp's twenty-year warranty protects against more issues, including corrosion protection for all our campus fencing solutions. Our Twinbar and Amego styles can add flair and personality to school facilities and park regions everywhere.
Advantages of School Campus Fencing
There are some obvious advantages of choosing a fence system designed specifically for school facilities. First, there's protection and security. These are critical at any school, park, or playground facility. Furthermore, privacy from noise and visual pollution as well as those passing by are attainable with the right solutions from our METALCO team.
School campus fencing can also be a cost-effective measure in securing your property. You can make a lifelong commitment to protection, security, and privacy without breaking the bank.
School Campus Fencing Solutions from MFR
MFR Corp's team of fencing engineers and designers has multiple solutions available. One of the greatest benefits of working with us is getting to work one-on-one with our professional engineers and designers. If you need a custom solution, we can help make it a reality with all the features and functions your property needs.
Furthermore, we offer affordable prices, 100% customer transparency, multiple designs, 85% recycled galvanized steel sourced in the USA, and many other eco-friendly measures to help your corporation.
Get Started with Your School Campus Fencing Solutions Today!
From school facilities to the playground, there are many uses for school campus fencing. Furthermore, the benefits and advantages of using MFR Corp's campus fencing are numerous. Not only will you receive added safety, security, and privacy, but you also get reliable material that's built to last at a cost-effective price point.
If you require any type of school campus fencing and want to learn more, contact us today. Our team of expert engineers and designers would be happy to help you find the right fencing solution for your needs. Don't wait! Get started now on our website!
"We used Metalco for our school campus fencing recently and they did amazing work. They listened to what we wanted and then completed everything in a professional manner. The fence is excellent quality and we're very happy with it."
"We highly recommend using Metalco for your school campus fencing. They recently finished our project, adding security and professionalism to our campus. Every step of the process was a pleasant experience and we're very happy with the fencing system."
"If you're looking for a professional and skilled company for your school campus fencing, we recommend Metalco. They took care of our fence, ensuring they met our needs while also sticking to our budget. They did a really great job, making them a top choice when you need solutions like these."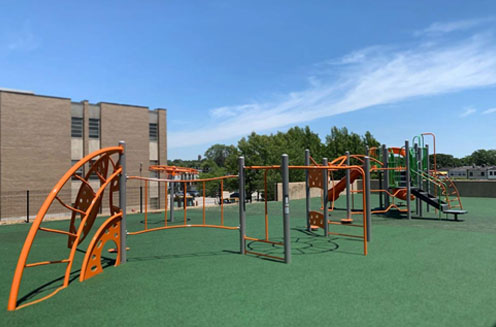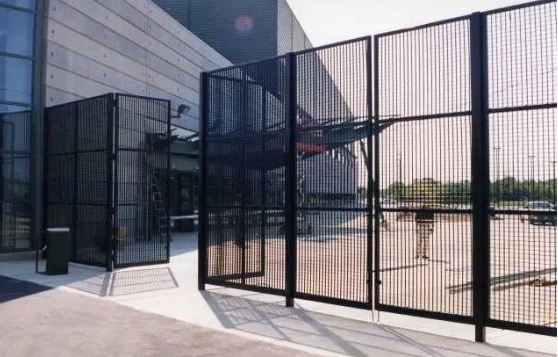 GRIGLIATO
Florida Gulf Coast University
Twinbar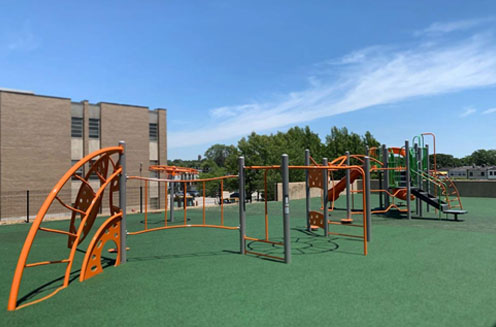 School Fencing Grigliato Gate Waianae High School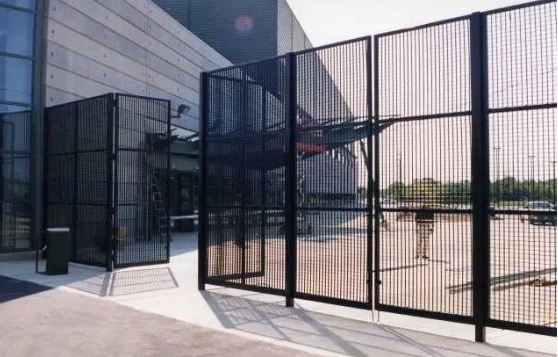 School Fencing METALCO Twinbar (1)
ORGANIZATIONS THAT USE OUR PRODUCTS