Custom Trash Enclosure Gate
Equipment enclosures are an important aspect of securing your personal or business equipment. MFR Manufacturing is one of the nation's leading metal fabrication companies. We provide high-quality fence, gate, rail, screen, and other metal solutions. Our reputation has earned us clients ranging from NFL stadiums to schools, parks, and universities across the country. At MFR Corp, we are passionate about using eco-friendly, locally-sourced, high-quality metal materials from right here in the USA. We have over a decade of experience with the best engineers and designers on the market to offer clients. 
Equipment enclosures are a wise investment for added security and function. There are numerous types of enclosures, from trash enclosures to HVAC enclosures, sports enclosures, and mechanical enclosures of all styles. 
Learn more about what MFR Corp has to offer with our equipment enclosures!
What Are Equipment Enclosures?
Equipment enclosures are any structure or shelter built to protect equipment on a property. For example, equipment enclosures can protect communication equipment, mechanical equipment, air conditioning units, ventilation units, trash sites, sports enclosure, and electrical systems, among other things. Equipment enclosures help keep unauthorized personnel out of restricted or dangerous areas. This ensures that everyone is kept safe and potential liability issues can be alleviated. 
Furthermore, it protects the equipment that is being stored or operated. It can protect equipment from weather conditions, vandalism, unauthorized personnel, and even natural factors like wildlife, tree branches, etc. 
There are many different types of equipment enclosures. The most common types include industrial, electronic, environmental, hazardous location, and custom-design enclosures.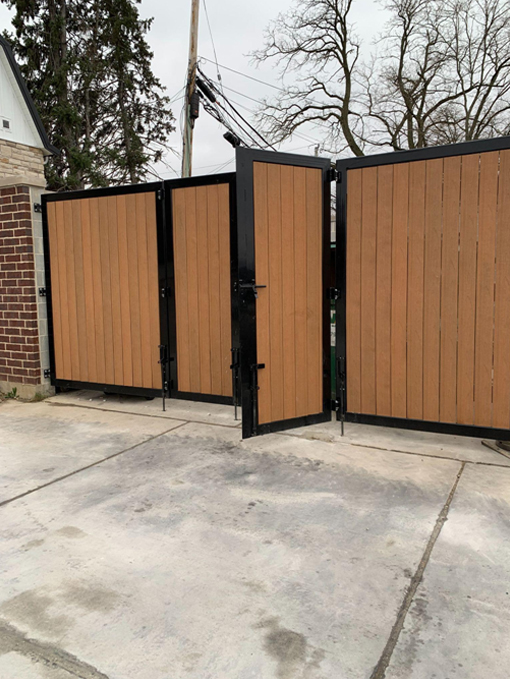 Different Types of Equipment Enclosures
Here are five of the primary types of enclosures that we have expertise in crafting.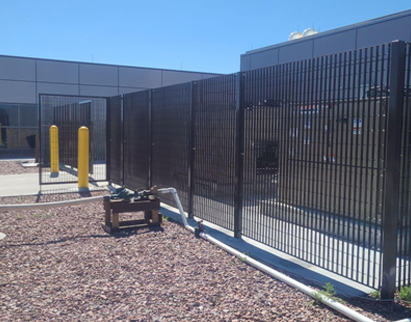 1. Industrial Enclosures
Industrial equipment enclosures safely house electronic equipment and components. This can alleviate the chances of injury while equipment is in operation, as well as protect assets from outside factors. With industrial equipment, environmental factors can quickly cause extensive damage. HVAC enclosures are an example of a potential industrial equipment enclosure. Grigliato and Twinbar fence designs are great investments for Industrial Enclosures. 
2. Electronic Enclosures
Electronic enclosures perform a similar purpose in protecting electronic components from outside factors and natural elements. They also help ensure electronics remain at peak performance without outside interference. We offer a wide selection of designs that can provide your enterprise with the right electronic enclosure features, such as temperature control and fireproof measures. All types of mechanical enclosures can follow under the electronic category. 
3. Environmental Enclosures
Environmental enclosures protect environmental areas. Durability is critical with any environment enclosure because it needs to be able to withstand extreme and varying weather patterns. We offer a twenty-year warranty at MFR Corp on all of our METALCO crafted products, including environmental enclosures.
4. Hazardous Location Enclosures
Hazardous waste areas should be restricted and protected to avoid risk of injury or illness. Hazardous enclosures need to be strong, durable, and able to withstand factors such as wire cutters. Some might even require additional detailing, such as razor wire, depending on what types of materials or substances are housed within. Trash enclosures are another great example of a hazardous enclosure area. Our SC products are great options for trash and other hazardous waste enclosures.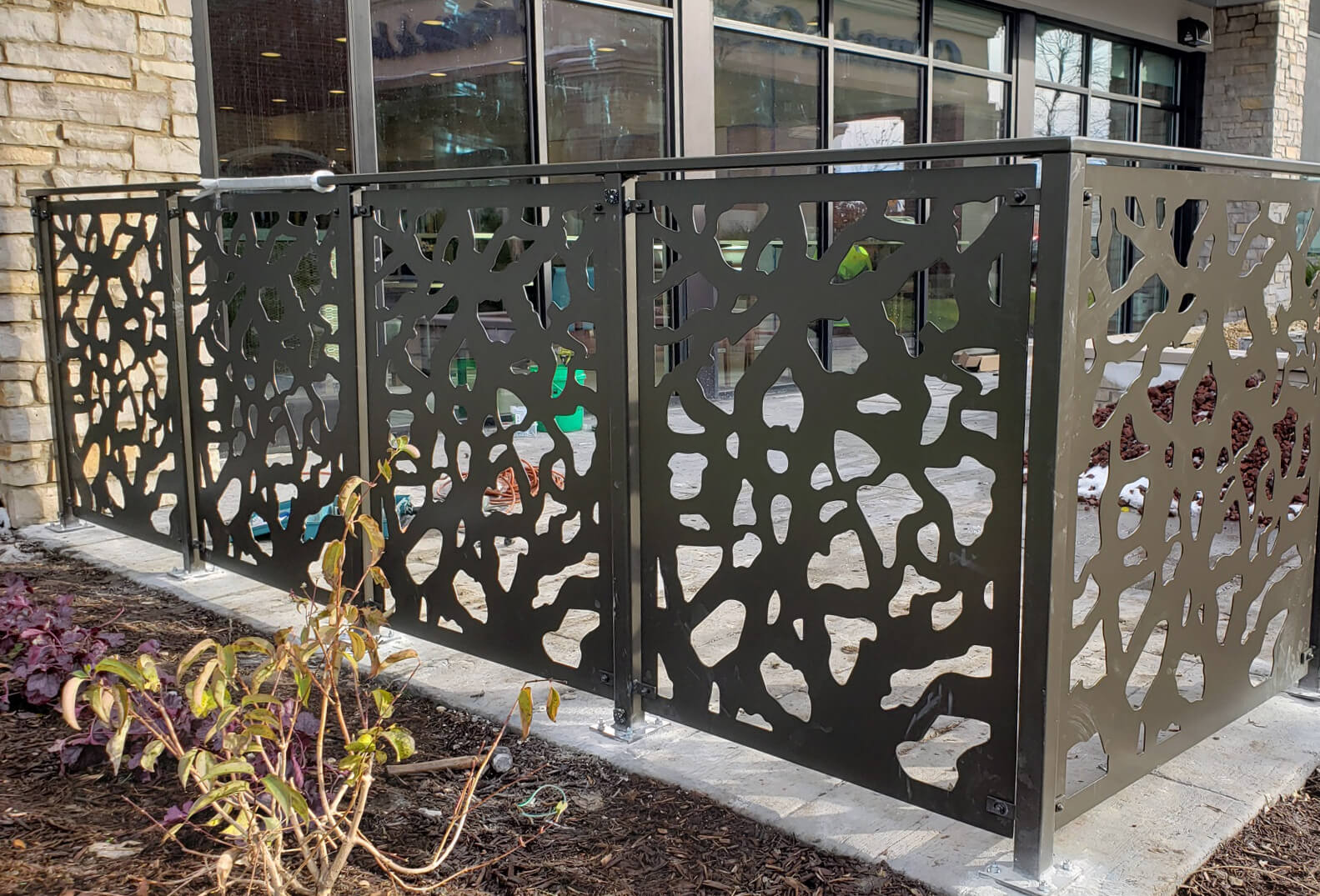 5. Custom Enclosures
Working with MFR Corp gives clients the chance to create 100% customized pieces. Custom enclosures are a common request from corporations across the nation. Our team pairs you with designers and engineers who can make your custom enclosure needs a reality.
Importance of Equipment Enclosures
Equipment enclosures of all types protect personnel, customers, and equipment alike. Furthermore, protecting your equipment is investing in the future of your business through asset protection. 
The environment can also wreak havoc on equipment, especially electronic or mechanical elements. From natural weather patterns to indoor environment factors such as temperature regulation or fire hazards, a specialized enclosure can reduce the chances of damage occurring. 
For instance, database centers are a great example of a type of enclosure that can protect vast storage areas of important information. Database centers are designed with fire protection systems, backup and recovery processes, and temperature regulation settings in place. If these fail or are not properly installed, vast data sets can be lost in case of data crash or facility incidents like a fire. 
Choosing the Right Equipment Enclosure
When choosing an equipment enclosure, there are many factors to consider. First, you should consider the environment where your enclosure will reside. What potential threats or dangers need to be evaluated in your enclosure's design? 
Second, you will need the correct dimensions to properly house all equipment. Knowing the correct size and capacity ahead of time can streamline the blueprint and design process. 
Next, consider the necessary materials and construction to craft a reliable equipment enclosure. Also, think of any additional features or customization that will ensure the highest protection and performance from an enclosure.
Finally, compliance and regulations are the last measure between your compiled design and the manufacturing process.
When you have heavy equipment, it requires very specific designs to protect it. MFR Corp came up with the perfect solution to protect our equipment and keep our grounds looking great. The result was a nice look with the protection we needed.
We had an area with dumpsters on our grounds that was very unsightly. It was in a prominent spot and looked awful. MFR Corp helped create a solution that "hid" the dumpsters, protected them from the public, and made it easy for the trash guys to still access them for dumping. So glad we used them!
Our facility was having issues with vandalism of some on-property equipment. After spending way too much on repairs and cleanup, we used MFR Corp to design a fence for us. They did an excellent job of giving us a customized look and protecting our equipment from further damage.
The MFR Corp Difference in Equipment Enclosure
In summary, equipment enclosures protect assets from natural and environmental factors as well as unauthorized personnel. They also ensure employee and customer safety on site from workplace incidents. Designed to secure assets and protect from all types of potential disasters, they are a wise investment for your business. There are many types of enclosures that are specialized for numerous applications. You can also create a custom solution that fits your exact needs with our team at MFR Corp. 
We encourage you to explore our wide range of equipment enclosures and reach out with questions. We are always happy to help you find the right solution for your enclosure needs. You can contact us at 800-708-2526 or on our website to learn more or begin your consultation process anytime. 
ORGANIZATIONS THAT USE OUR PRODUCTS