Making the right choices in new metal fabrication solutions is a wise way to expand your business's presence. Extending your presence by adding onto your property and considering security, functionality, and beauty can help elevate your business presence. As a result, you might even see an increase in customer ratings, sales, and income. However, there are several other reasons to invest in new metal fabrication solutions for your enterprise. 
Having a team of expert engineers and designers by your side from MFR Corp can make the entire process simple. We offer a line of gate, railing, screen, fence, and architectural art pieces. You can also create your own unique options. Contact us today to learn more about one of the nation's leading US-based companies in metalwork design. You can also begin a free consultation process with our team via our website's inquiry form. Here are just three of the many signs you need to invest in new metal fabrication solutions from MFR Corp METALCO solutions today!
We Are Entirely Based in the United States
If your current metalwork solutions are old, outdated, or were made overseas, now is a great time to invest in new solutions with MFR Manufacturing. One of our passions is working to keep jobs in the United States. We also use only USA-sourced materials that employ up to 85% recycled steel. Plus, with our galvanization and powder coating processes, we can guarantee better quality in our METALCO solutions. This creates long-lasting screen, gate, fence, railing, and art pieces that make your investment worth it for the long term. All of this is protected under our standard twenty-year warranty, which you can learn more about here! 
Keeping our company within the United States is part of our mission to boost our economy, provide high-quality solutions for companies across the nation, and guarantee high-performance solutions!
We Also Care About the Planet
Another reason to upgrade or invest in an entirely new metal fabrication solution from MFR Corp is for environmental reasons. Many alternative fence options don't use high-quality, long-lasting steel and can negatively impact the environment. With needing lots of replacements, upgrades, and expensive upkeep along the way, these options cost both you and the planet more. 
At MFR Corp, we not only recycle our steel material, but we have also created an innovative powder coating paint solution. Our powder coating process uses less paint than traditional application methods for a smooth and beautiful finish. It also reduces runoff, and the excess can be reused so there's less waste at every stage of the process. These efforts have helped distinguish us with LEED certification. If you work with a company that cares about high-quality solutions and the planet, you can rest assured that your investment is a smart choice for your enterprise. 
Many Design Options to Choose From
Finally, you might want to invest in new metal fabrication solutions because you can find the right option for your needs with our team. At MFR Corp, we offer numerous fence, rail, gate, screen, facade, and art styles to choose from. Our pre-designed options can also be customized with additional features, colors, finishes, and add-ons such as razor wire or remote access. We work with you to help you make the right investment for your corporation based on your current property size, needs, and requirements. 
For example, if we are working with a client who needs extra security, we might recommend our SECURITE fencing option with additional razor wire detailing. However, if we are helping a client who is simply looking for a small fence with decorative appeal, our TWINBAR might be more fitting. For a blend of aesthetic design and rigidity, the customizable GRIGLIATO option may best suit your project's needs.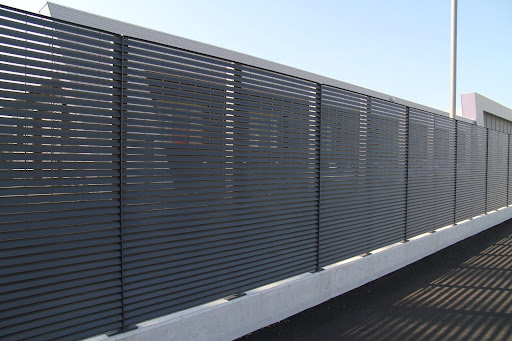 Custom Needs? No Problem!
Of course, totally customized solutions are often necessary, and we are happy to oblige. If you are seeking a 100% custom solution for your business, we suggest you reach out to our team for a free consultation process. During our meeting, we will get a basic idea of what type of metal fabrication solutions you are seeking. From there, we can best pair you with expert engineers and designers from our team. You will be included in the blueprint, CAD drawing, and final design approval. After you approve it, our expert manufacturing team takes over. 
Contact Us to Get Started Today!
Living with outdated, foreign, and cheap metalwork on your corporation's property just isn't necessary when you put so much effort into operating a successful company. No matter what type of commercial property you own, high-quality, long-lasting solutions should be the norm. We can help at MFR Corp with our METALCO solutions. Our team provides metal fabrication solutions that are built to last. We protect our systems under a twenty-year warranty. We source from materials in the United States. Learn more about our American-made rail, gate, screen, and fence systems. You can explore past projects on our website and review examples in our gallery. You can also reach out to us for your consultation online or via phone at 800-708-2526.