Owning a commercial enterprise means you have to think about security for your property. You're responsible for securing your assets, as well as protecting your employees and customers. Nobody wants to let all the hard work they have put in be defaced, invaded, or destroyed, even by natural weather conditions that can leave any commercial property facing extensive damage. Therefore, it's a good idea to learn what you can do to help secure your premises without breaking the bank. Now with commercial security fencing, you can add safety as well as beauty, value, and durability to your property in one wise investment. When it comes to reliable security fencing for your commercial enterprise, it doesn't get any better than MFR Corp. Our commercial security fencing is some of the best on the market today.
Also, our affordable security fencing solutions make it easy for everyone to find a system that fits their needs and budget. Plus, we have so many options to choose from, as well as customizable choices. Learn more about how you can protect your property today with MFR Corp's commercial security fencing by visiting our website. You can reach out to one of our friendly sales engineers and begin crafting your customized fencing solutions right away. Here are the basics of security systems for your commercial enterprises to help you start. 
The Basics of Commercial Property Security Systems
When it comes to security measures for your commercial property, there are a few options available. Usually, adding a visual camera surveillance system is a wise choice. This route can be used in tandem with other solutions, such as commercial security fencing. Security systems can record 24/7, which makes it easy to refer back to old footage if needed. Plus, adding a camera system along with advanced motion detection can help prevent crime from occurring in the first place. 
Secondly, a commercial security fencing solution from MFR Corp is an investment you won't regret. Security fencing makes it harder for criminals to enter your property, adds privacy, reduces noise pollution, and blocks out unpleasant views like traffic. You can quickly add value to your property by investing in a commercial security fencing option with MFR Corp. Everything from seemingly minor acts of vandalism to severe theft can hurt your business drastically. When you have to close down due to loss of personal belongings, plummeting profits, or significant property damage, you might struggle to get back on solid ground afterward. Choices such as adding a surveillance system or installing a reliable, durable, and affordable commercial security fence can have major ramifications in the future. 
MFR Corp Commercial Security Fencing Features 
There are many features that MFR Corp commercial security fencing offers. First, our fences are built to last a lifetime and come standard with a twenty-year warranty. Under our warranty, you get a guarantee against corrosion and rust. 
However, it gets even better than that. Our security fencing systems are rigid and heavy-duty because of the specific grid designs we utilize. These designs, as well as vandal-resistant add-on options such as extension arms and razor wire, can make any fence system virtually unclimbable. With anti-climb features installed in your business's fencing system, you can guarantee that even the most determined of criminals won't be breaking in anytime soon. 
Finally, our commercial security fencing solutions are durable against wire-cutters with anti-cut strength that secures your property from vandalism and theft. Using heavy-duty, quality metal fabrication that's designed, engineered, and manufactured to be crime-proof, you get even more from your fencing investment with MFR Corp.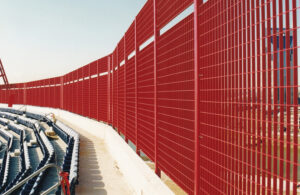 Other Commercial Security Fencing Capabilities
There are other capabilities of your MFR Corp fencing solutions design. When you choose to create a customized fence for your business, you'll meet with one of our skilled designers. Our designers and engineers work together to make your fencing dreams come true. We pair reliable and long-lasting materials with your unique vision for your commercial enterprise to craft a fencing solution that fits your needs and budget and comes with your desired security functions. Every fence we design, whether it's custom-made or pre-designed, is virtually impenetrable, unclimbed, and wire-cutter resistant. Plus, you can add keypad entry capacity and panic system hardware. These options add another layer of security to your business. 
Contact MFR Corp For Commercial Security Fencing
When it comes to adding security, aesthetics, and value to your property, commercial security fencing from MFR Corp is ideal. Our security fencing solutions are elegant, durable, and long-lasting. Plus, we use quality metal fabrications in a unique grid-like pattern. This makes our fences virtually unclimbable, uncuttable, and resistant to natural corrosion. With our twenty-year warranty, you get more for your money at MFR Corp. Contact us today by calling 815-318-0843 for your quote. Our team will be here to answer all of your questions. We can help you find the perfect commercial security fencing for your enterprise.