Investing in a screen system for your commercial property could be one of the smartest choices you make this year. Screen systems offer a wide array of benefits. These include added privacy, reduced noise pollution, increased property value, enhanced security, and improved aesthetics. There are numerous reasons to consider investing in a facade screen system as a business owner. However, choosing the right option is critical. Choosing a reliable screen system that is built to last with high-quality materials can ensure a long-lasting solution for your property. 
Welcome to MFR Corp METALCO products. We provide USA-made metal fabrications, including screen systems, fence, gate, and rail systems. All of our designs use eco-friendly measures, locally sourced high-quality metals, and a streamlined CAD process. When you invest in a screen system from our skilled team of engineers and designers, you get quality, beauty, and durability combined in a perfect and unique design. We offer pre-designed screen system solutions as well as 100% custom options for the best investment for your corporation. Learn more about us on our website, and keep reading to learn what you should know before you invest in a screen system. 
Applications for Screen Systems
When it comes to making smart investments, it's important to understand your needs. There are many applications for screen systems that could fit the needs of your business. Here are some of the most common reasons to choose a stylish and functional screen or facade screen design from MFR Corp's team of designers. 
Many business owners choose a METALCO design for functionality. We deliver designs that can add security and privacy, reduce noise pollution, screen off private areas, and add enhanced aesthetic value to your property. All of these functions can work together in one design for a smart solution that is designed to last and is covered by our standard twenty-year warranty. 
Since there are numerous design options, it's easy to choose a style that adds the right amount of both privacy and accessibility for your commercial property. With the ability to let a great deal of natural light through, nature and your property can still work together with a screen investment. Furthermore, screen systems can reduce visual and noise pollution in style by shielding your property from prying eyes and ears.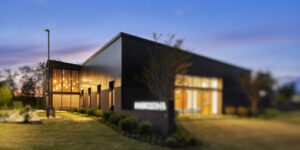 Strength and Durability
Before you choose any metal fabrication, it's smart to ask questions about the materials used. This will tell you about the product's overall durability and long-term reliability. At MFR Corp, we use long-lasting steel solutions protected by a galvanized process. This process adds extra strength to the 85% recycled steel we source here in the US. As a result, we can guarantee our clients enhanced durability that is protected under our twenty-year warranty. If you compare our screen systems with the competition, you will learn that traditional chain-link designs are extremely weak. Our grid-lock design is wire cutter-resistant and virtually non-climbable, which adds more protection and security to your property. Learn more about our warranty here!
We also use an eco-friendly powder coating finish that's available in a variety of colors. By using this powder coating, we are able to apply an even finish with less waste and runoff than traditional paint applications. 
Shop Our Selection of Screen Systems 
If you are interested in shopping our line of pre-designed screen systems, don't wait. MFR Corp has three main designs in its facade screen system portfolio, including the Grigliato, the SC Louver, and the SELECT Screen System. However, remember that we also offer fully customizable options in case none of these pre-designed solutions fit your exact needs. Bring your design to us!
When it comes to choosing the right screen system for your needs, each design has unique features and design elements to offer. We recommend looking at examples from our past project profiles, examining CAD drawings on our website, and then meeting with our design team to discuss your options. This will help us assist you in making an informed choice for the best screen system investment for your needs. 
For example, your goals could be to choose a design that adds aesthetic value. Or maybe you want something with a good amount of airflow or that keeps animals off the premises. Maybe you simply want to reduce noise pollution. With our variety of options, we can choose the right combination of design features for your needs. 
Learn More About MFR Corp's Facade Screen Systems Today 
MFR Corp's expert engineers and designers can combine all of your screen system needs into a beautiful and functional design for your business. Learn more about how our team can help by contacting us today. With the benefits of adding property value, protection, and privacy to your business, facade screen systems are a great overall investment. Call us today at 815-472-9086 for more information.