When it comes to reliable metal fabrication manufacturing and design, MFR Corp is one of the nation's leading companies. Our manufacturing is a detailed and streamlined process that eliminates the margin of error and creates stunning metal fabrications. From fences to railing, gate, and metal art pieces that capture your eye, we bring it all together with our proven methods, techniques, and quality materials. Adding a fence, railing, gate, or art piece to your commercial or residential property is easier than ever before when you know the ins and outs of our manufacturing process. Plus, we work directly with architects to design and manufacture the right metal fabrications for any project they desire.
MFR Corp can help with everyone's metal design needs using reliable steel products, detailed CAD drawings, and seasoned engineers who bring out the best in what we have to offer. Contact MFR Corp today to learn more, visit our website, or call us anytime to begin your architectural manufacturing process.
Working with Our Sales Team
When you reach out to MFR Corp manufacturing for quality steel metal fabrications, we reply fast. First, you will work with our sales team directly to plan out your project needs. During this meeting, we'll discuss your budget, any design ideas you have in mind, and go over some of our past projects to give you an idea of what we have to offer at MFR Corp. Next, we'll determine which products can make your dream project a reality. This is considered the brainstorming part of creating custom metal designs at MFR Corp.
Whether you are a contractor or an architect who wants to learn more about our business, we can help. As you work with our sales team you will learn about our process in detail, including materials we use, like recycled steel and eco-friendly powder coatings. You will also get to see firsthand some of our past custom projects, helping you and our expert designers craft the right durable solution for your project.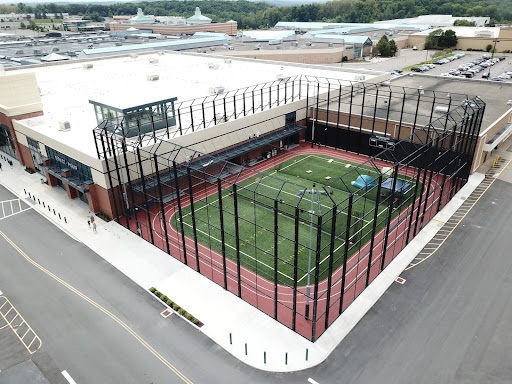 Engineers Create Detailed CAD Drawings 
Next, our professional engineers begin creating detailed CAD drawings. CAD stands for computer-aided design. We use the latest computer software technology to create detailed designs because it creates a smaller margin of error. When it comes to reliability and quality in everything we offer as part of the METALCO manufacturing process, we believe CAD drawings are the best course of action. During the entire design process, you can work closely with our engineers to create your drawings. If you are an architect who doesn't know much about steel metal fabrications, we can help you craft a CAD drawing. You can view past CAD railing, fence, and gate designs on our website to get an idea of how these engineered blueprints come to life at MFR Manufacturing Corp. 
Manufacturing Begins
Next, we begin the physical manufacturing of your customized metal fabrication using locally sourced and recycled steel materials. Using state-of-the-art technology, we ensure great precision at every stage of the manufacturing process. Attention to detail and quality are all aspects of what we strive to provide to every client at MFR Corp. 
MFR Corp Manufacturing & Eco-Conscious Measures 
MFR Corp cares about our impact on the environment, so we use LEED-certified steel and powder coatings. Steel is commonly recycled and can be recycled multiple times. We make our products from 85% recycled steel harvested primarily from old automobiles for durability. Using recycled materials helps the environment in multiple ways. First, newer materials are not being used, so less energy is required to manufacture the product initially. Second, recycling steel is a more sustainable and long-term solution for all metal architectural designs including fences, railing systems, and gates. 
Our powder coating provides clients with numerous options for custom colorization without compromising our impact on the planet. These coatings are all eco-friendly, organic, and high-quality finishes that bring out the beauty in any design. With our powder coating, you get the same durability and vibrance as any other paint solution and it's electrostatically applied. The coatings are safer overall than traditional wet paint applications. For all of these solutions, MFR Corp manufacturing has received LEED certifications proving we honor the triple bottom line for social, environmental, and economic benefits.
Learn More About MFR Corp Manufacturing 
When it comes to working with a metal manufacturing company you can trust, MFR Corp is your best choice. From the start of a project, we work closely with our clients including homeowners, business owners, contractors, and architects. We help them find the right solutions for their project needs. 
Then you get to learn about our eco-friendly materials and measures designed to create durable fabrications with low environmental impact. By using 85% recycled steel materials from right here in the United States, we bring you quality designs and manufacturing products that align with our twenty-year warranty. For a company you can trust when it comes to manufacturing, MFR Corp is here. We can help your project dreams become a reality. Contact us today and visit our website to learn more.