Choosing the right company for your metal fabrications is important. Knowing which factors to look for in your metal design provider can help you make informed choices. Looking for a company that puts reliability, quality materials, state-of-the-art manufacturing practices, and LEED-certified functions together is a great way to invest in a metal product that will last a lifetime. 
MFR Corp is here to help, and metal fabrications built right here in the USA are what we do. With all of our American-sourced materials and manufacturing processes, you receive the highest-quality products in fence, gate, screen, rail, and architectural pieces. We work with corporations of all types, from major sports teams to universities, mental health facilities, local restaurants and beyond. You name it, and we can work with your corporation to craft custom metal pieces for your exact needs. Learn more about us on our website and reach out to set up your free consultation. Here are some things to avoid when it comes to finding the right metal fabrications company.
Looking Overseas for Cheaper Offers 
One of the biggest mistakes commercial property owners make when searching for a metal fabrication company is prioritizing a cheaper price tag over quality. This typically occurs when they shop overseas for seemingly cheap deals. However, what seems like a good deal upfront can actually cost you a lot more in repairs, damage, and upkeep down the road. No matter what type of metal fabrication you are shopping for, quality materials might cost a little more but ultimately are built to last. Shopping locally for a US-based company is the best way to have more input into the manufacturing process. This can help you rest assured that not only are quality materials being used to design your metal fabrications but that a streamlined, cutting-edge manufacturing process is being utilized as well. 
Our team at MFR Manufacturing believes in transparency when it comes to design, craftsmanship, manufacturing, and upkeep. We are happy to walk you throughout the process from CAD drawings to finished products. We share numerous past project portfolios and testimonials on our website to help new customers learn more about what we have to offer. Since we use 85% recycled steel from right here in the United States, we are both environmentally conscious and ensure the highest-quality metals are used. As a result, you get more durable, long-lasting, and resilient metal fabrications. 
Don't Forget About Security!
Many people don't think about security when it comes to choosing a metal fabrication company. Some companies don't specialize in high-security versions of their products. Furthermore, many metal fabrication companies do not offer customizations. This means that it can be hard to find high-security solutions for your property, such as fences with razor wires, secure gate entry with keypad technology, extra-durable fences or railings, or anti-climb features. 
In contrast to many companies, MFR Manufacturing offers features such as our grid-lock design to bring extra security to your investments. Our grid-lock system makes our fence and screen systems virtually unclimbable, wire cutter-resistant, and more durable against theft and vandalism. When you work one-on-one with our designers, we will consider all of your security needs. We implement design features that are both functional and visually appealing. This way, your reliable, strong, and secure metal fabrication enjoys our twenty-year warranty.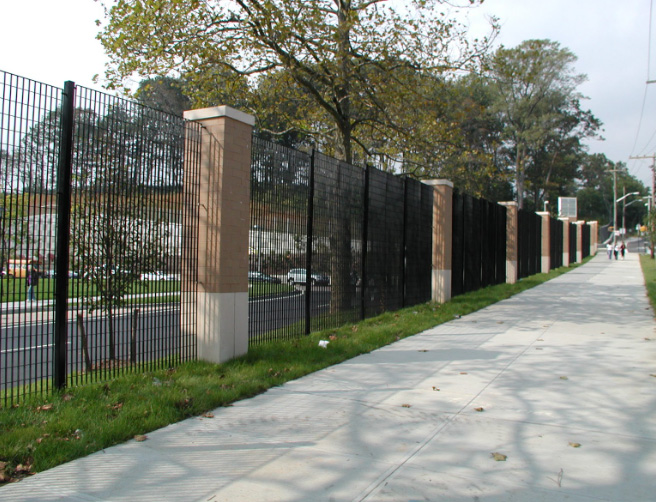 Metal Fabrications with Design and Engineering Consultations
When you work with MFR manufacturing you get more than you would with your average fabrication shop. Most fabrication shops only concentrate on the actual construction of their metalwork pieces. We are different. MFR Corp starts from the beginning with design and engineering professionals working by your side as a client. We make your dreams a reality with one-on-one consultations that keep you in the driver's seat for your future investment. Part of our mission is to work with clients on custom projects that suit their individual needs perfectly. If you are interested in a custom MFR Manufacturing METALCO fence, gate, rail, screen, or art piece, contact us to learn more!
MFR Manufacturing Warranty Protection for Our Metal Fabrications
Finally, many other companies do not offer a warranty on their products. The companies that do offer warranties often have numerous stipulations. These make it hard to actually receive coverage for damage under a warranty. At MFR Manufacturing, we believe firmly in the quality of our creations, which is why we offer a standard twenty-year warranty on all metal fabrications. To learn more about what is covered under our warranty, you can read through our informative packet online today!
Contact Us for More Information!
MFR Manufacturing has been in the metal fabrication industry for over three decades. When it comes to high-quality craftsmanship and reliability, we deliver. Want to learn more about what we can do for your corporation? Just reach out to us online or via phone at 815-552-3333 to learn more.