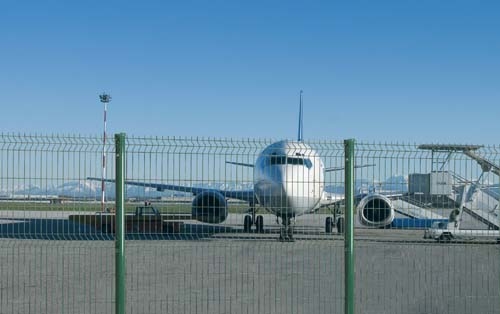 Airport security has always been a concern, but in recent years, and particularly considering the impact of the pandemic on the travel industry, installing and maintaining airport fencing and railing systems calls for higher quality materials and professional services. Architects need to contract equipment and services from professionals who understand the unique needs of this evolving industry. 
By partnering with a manufacturing company with expertise in the built environment, architects and engineers, property developers, governmental agencies, and cities are assured that their needs are fulfilled, with outcomes meeting or exceeding their desires. 
While functionality must remain at the core of any design, aesthetics should be factored in as well. Particularly when instituting security measures, having airport fencing and railing systems blend in with their environment is not only pleasing to the eye but is often used to further increase the impregnability of secured areas by effectively camouflaging key access points.
For these reasons and more, working with a company with prior experience in the construction and installation of airport fencing and railing systems is crucial for a successful outcome.
Metalco: Experts in Airport Fencing and Railing Systems 
For over 30 years, Metalco has been a positive presence for a variety of businesses and government agencies. With dedication to developing, perfecting, and producing innovative railing and gate systems, including designs for airport fencing and railing systems, their reputation now precedes them. 
Consider them the industry standard that competitors strive to attain and you have a good picture of their reputation and the respect the company has garnered by simply doing the best job possible.
Leveraging an extensive background and decades of direct experience, Metalco's team of designers has collaborated with architects and engineers from a wide range of businesses, firms and public organizations in need of quality ready-made systems.
Metalco systems are built to function efficiently and safely, with an endurance measured by decades instead of years. From small local operations to national companies and major sports complexes, Metalco's collaborative designs and installations often result in a culmination of inspiring aesthetics and common-sense functionality. 
Common areas used for railing in airports include multi level parking garages and concourses, while common fencing needs include entry and exit points as well as runway perimeters.  
Regardless of the type of installation being performed, Metalco always employs the latest safety features, such as the inclusion of anti-climbing capabilities, which consistently results in lowered liability for business and property owners. By thwarting most attempts to intrude into prohibited areas and marking off private sections, the potential for unwanted accidents or unexpected injuries occurring is greatly reduced.  
You will find that steel plays a key role in many of the installations done by Metalco. This is because steel has the strength and durability to resist damage from a variety of natural disasters, including but not limited to earthquakes, hurricanes, and tornadoes. Also, steel is more resistant to fire and good luck to any termites hoping to gain a hold on a steel structure! Thanks to these features and much more, owners will likely find their property insurance rates dropping noticeably.
Metalco: The Best for the Best
While following OSHA guidelines to a tee, Metalco always keeps the needs of the owner in mind and designs their ready-made systems accordingly.  By employing architectural steel systems, clients end up with beautiful results that are astoundingly sturdy and durable. However, clients always get more than an aesthetic lift and an enhanced sense of security and safety; typically these installations pay for themselves through the increased value attributed to such high-end improvements.
Another reason businesses look to Metalco for ongoing projects is their own longevity in an industry fraught with small businesses regularly closing their doors. When a company receives the standard 20-year guarantee offered by Metalco, there is plenty of assurance in such a promise. However, because of their stellar performance and attention to detail, rarely do past customers need to make use of this ironclad guarantee. After 40 years of operations, installations performed in their early days are still functioning as if they were just built a few months ago. Even more impressive is how the aesthetic designs have also stood up through the decades!
Particularly when it comes to airport projects, working with a company experienced in airport fencing and railing systems is crucial. Again, looking to Metalco is the right move; their projects page aptly illustrates the broad variety of installations they have completed, including their Ft. Lauderdale Airport installation.
As further proof of the "never-say-die" spirit that steadily beats within Metalco, look no further than their amazing and inspiring case study involving a last-minute request for the installation of more than 8,200 custom fence and railing panels prior to the start of the football season for the Tennessee Titans.
The end result?  Mission accomplished and, more than two decades later, still standing strong against natural and human abuses! Proving yet again the durability of their work, the materials involved, and an unbeatable can-do attitude.
For businesses and projects in search of a true American company that employs environmentally responsible practices, offers a rock-solid 20-year guarantee on all their work, and brings decades of experience in crafting architectural metals and custom metal art, the hunt ends now. To either obtain technical information or receive a customized quote for a specific project, reach out to Metalco on their contact page or call them directly at 815-552-3333. It will most likely be the start of a valuable and profitable relationship for you!